Those who thought there might really be a cease-fire yesterday have been disappointed. There is no cease-fire.
There is a lot of diplomatic pressure, but it does not seem very effective.
The sudden announcement yesterday that U.S. Secretary of State Hillary Clinton
Clinton arrived in Israel around 21:00, and went in the dark of night to see Israeli Prime Minister Benyamin Netanyahu. The two made a brief pre-set formalistic press appearance, and then went into a meeting.
In her public statements, Clinton first spoke of America's "rock solid and enduring" support for Israel's security.
A full transcript of her remarks and of PM Netanyahu's, with a video, is posted on the State Department website here.
Clinton will have a second meeting with Netanyahu [together with his inner cabinet?] this morning, according to information just Tweeted by Haaretz journalist Barak Ravid, after a brief "consultation" with Palestinian President Abbas in the Ramallah Muqata'a.  [Proving that an escorted convoy can make it between Ramallah + Jerusalem quickly — but still not in 15 minutes, as Netanyahu recently claimed.]
@BarakRavid: SecState Clinton will meet at 11:00 am for 2nd time w Israeli PM Netanyahu, FM Lieberman & MoD Barak b4 leaving to Egypt
The Obama Administration's first huge crisis — even before actually taking office — was the last huge Israeli military operation against Gaza, Operation Cast Lead [27 December 2008 to 18 January 2009], which ended at the insistence of Obama's people literally hours before his inauguration ceremony. A day after being sworn in, Barack Obama's first international phone call as President was to Palestinian President Mahmoud Abbas. He appointed Senator George Mitchell as envoy, and gave the impression that he would deal with this problem strongly and seriously. Israeli settlements were identified as the major obstacle to a political solution, and Mitchell had written an earlier report that pointed to the settlement problem. But Israel under Netanyahu, whose party won national elections in February 2009, dug in its heels. Every trick in the book was pulled out, and settlements were expanded and entrenched. The U.S. caved in and gave up. Mitchell eventually was removed as Special Envoy.
As Palestinian negotiators have said, Israeli negotiators only wanted to talk about security. So, the Obama administration changed its tactics and adopted a new strategy: from early 2010, the focus has been on reassuring Israel. The idea seemed to be that if Israel's security needs were given "rock solid" guarantees, then Israel would be relaxed and reassured enough to negotiate more…seriously.
In the Spring of 2010, the Obama team reinforced what has been American policy for decades, but announced it in a big way: unqualified support for a "Qualitative Military Edge" [QME] for Israel, which we have written about previously on this blog.
Obama announced an increase in military spending for Israel — $30 billion dollars over the next ten years. On top of that, the U.S. gave additional money to allow Israel to develop the Iron Dome missile defense program. Just this week, Israel deployed a fifth and upgraded Iron Dome battery to protect Tel Aviv, which had never been attacked by fire from Gaza before — and was previously out of range, and Israeli officials have indicated they need a total of 13 portable Iron Dome units [at a reported cost of some $50 million dollars each] to feel sure about protecting their country.
The Iron Dome battery is not effective in short distance ranges, for the Israeli communities in the Gaza perimeter, nor for long distances, but it is portable.
So far, Israel has reportedly fired nearly 400 Iron Dome missile interceptors [which reportedly cost some $40,000 each].
The Iron Dome system has been effective in the current Operation Pillar of Clouds — but even a few failures are costly and frightening. Yesterday afternoon, a 6-floor apartment building in Rishon letZion, not far from Tel Aviv, was badly damaged by a direct hit. At least one person was injured, but no deaths. Also yesterday, a second round of long-range [M-75s, Hamas calls them] missiles was fired towards Jerusalem, where there is no Iron Dome protection. It is unclear what the intended target, but in any case it fell near the Palestinian town of Beit Ummar in the southern West Bank, landing in an open area.
That is the policy the U.S. is still backing and pursuing. In the current Israeli military operation, President Obama and every other official in the Administration who has spoken out has backed Israel's right to defend itself. The U.S. reportedly announced a few days ago that it was sending another $300 million dollars for Iron Dome defense.
So it is in this context, as Reuters reported, Clinton spoke yesterday upon arrival — and both Netanyahu and Clinton referred to the Iron Dome system.
Reuters reported overnight that Clinton "repeated international calls for the kind of lasting, negotiated, comprehensive Israeli-Palestinian settlement that has eluded the two peoples for decades – something neither of the two warring parties seems seriously to be anticipating. 'In the days ahead, the United States will work with our partners here in Israel and across the region toward an outcome that bolsters security for the people of Israel, improves conditions for the people of Gaza and moves toward a comprehensive peace for all people of the region', Clinton said. 'It is essential to de-escalate the situation in Gaza. The rocket attacks from terrorist organisations inside Gaza on Israeli cities and towns must end and a broader calm restored. The goal must be a durable outcome that promotes regional stability and advances the security and legitimate aspirations of Israelis and Palestinians alike'."   This report is posted
http://en-maktoob.news.yahoo.com/wrapup-1-gaza-shakes-israelis-killed-clinton-seeks-000924434.html
Netanyahu, who earlier lectured UN Secretary-General BAN Ki-Moon [who had urged "restraint"] on the his view of the security situation, apparently said less with Clinton: "If there is a possibility of achieving a long-term solution to this problem with diplomatic means, we prefer that. But if not, I'm sure you understand that Israel will have to take whatever action is necessary to defend its people".
But, the rigid — "rock-solid" — U.S. support for Israel's security and for its defense against missile threat is juxtaposed against Israel's targetted killings, which it used to start Operation Pillar of Cloud, and which it continued yesterday. Israel has justified killing journalists working for Al-Aqsa TV and for targetting media offices where Hamas officials were being interviewed.
This strategy runs counter to most interpretations of international humanitarian law. But Israel — and the U.S., in its post 9/11 policies and "war on terrorism" by any name — have put themselves outside of this consensus. They appear unmoved by the reaction. Whatever outcry there is against this is limited and reported in only part of the media.
Those European countries who have not covertly participated in these operations have chosen to look away. European leaders this week have used the same expressions as Obama officials, speaking only in support of Israel's right to defend itself.
In this context, Clinton is at this hour about to descend with her entourage on the Muqata'a Presidential compound in Ramallah, to meet with the beleagured and sidelined Palestinian leader Mahmoud Abbas — more to pressure him against pursuing his planned "UN move" in the General Assembly to seek an upgrade in the status of Palestine to [observer non-member] State [because, what does Abbas have to do with a cease-fire???]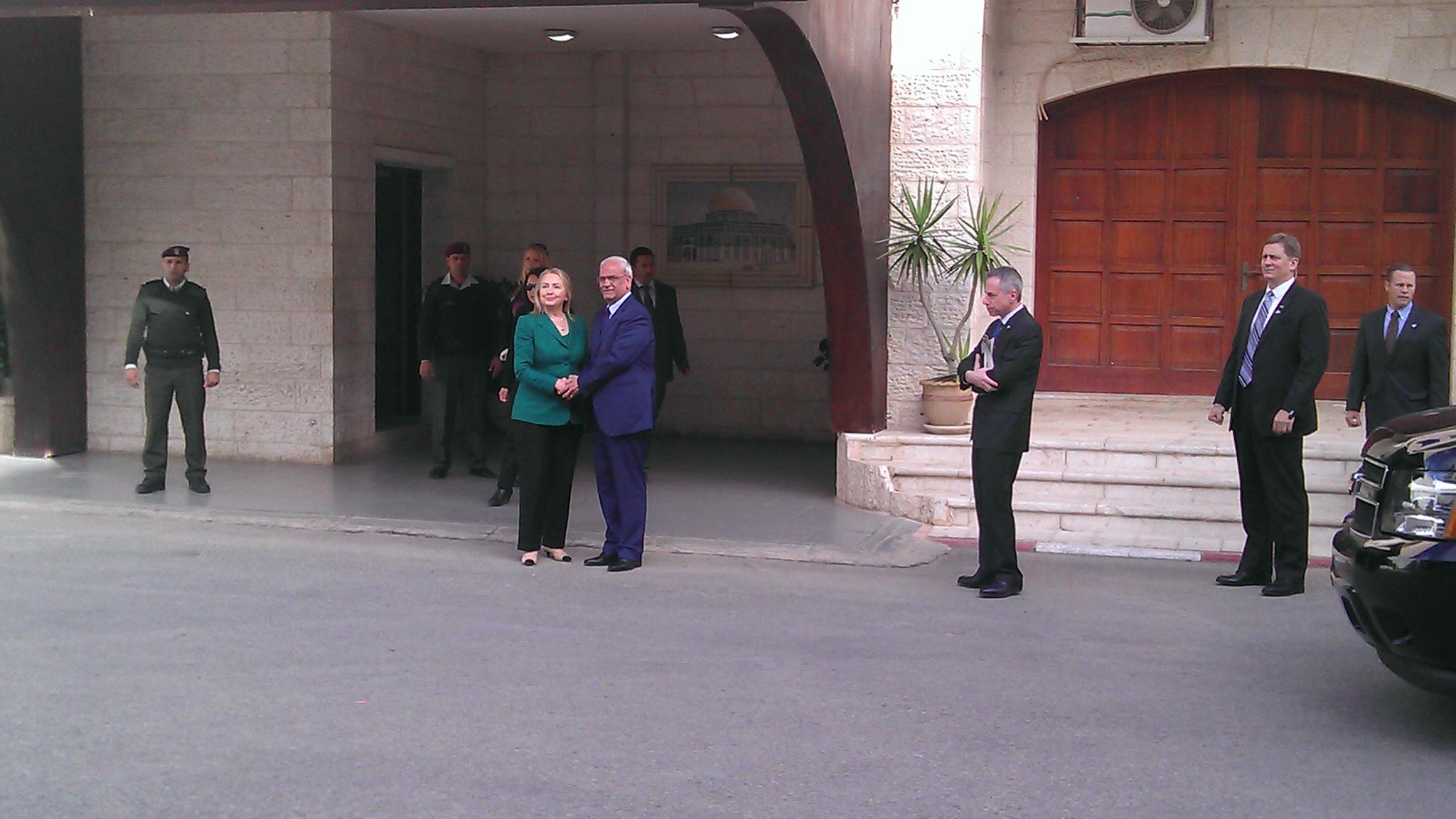 Photo of Clinton arriving at Ramallah Muqata'a + being greeted by Palestinian negotiator Saeb Erekat
PhotoTweeted by @WissamH [Wessam Hammad]
UNSG BAN Ki-Moon, who is more sympathetic to the "UNGA move", will visit Abbas a couple of hours later.
Then, the diplomatic scene will move to Cairo, where Egypt is charged with finding an end to Hamas rocket and missile firing…