Palestinian activists who spent a cold night in the tent village of Bab al-Shams were awakened this morning by a visit from the Israeli Police who said they would be evicted "soon".
The Israeli Police told the Bab al-Shams residents that the Israeli Supreme Court Order ordering a six-day stay in any eviction proceedings should apply only to the tents they raised yesterday on a hilltop in the E-1 area [east of Jerusalem] — and not to the people staying there.
The Israeli Police obtained an eviction order on Friday, shortly after they realized the Palestinians were setting up Bab Al-Shams, apparently on the grounds of "trespassing".
Civil Rights Attorney Tawfik Jabareen, who represents Bab Al-Shams and who got the Supreme Court injunction on Friday, said this morning that he thought it was a joke, when he was told about the Israeli police interpretation of Supreme Court injunction.
#BabAlShams Attorney said he had just sent a letter to Police Commander in E-1/Maale Adumim saying that police interpretation of Supreme Court order is wrong
"The order is very clear", #BabAlShams Atty. "It includes tents + people…+ it is forbidden for military commander to evict and/or destroy"
If the police or military commander have a different interpretation of Court injunction, he/they must go to the Court — #BabAlShams Atty
If any police/military official acts against Supreme Court injunction, "on his deed a black flag arises" — and this means, it's illegal: #BabAlShams Attorney
UPDATE: On Saturday afternoon, the Times of Israel added this reporting:
"The Supreme Court decision to temporarily halt the removal of the tent city came after four Bedouin families who claim the land submitted a petition. Tawfiq Jabarin presented their case, which contended the tents were erected on private lands as part of a project that attracts tourists to learn about their culture, known as 'Albadia'. The petition further claimed the initiative, which includes learning how to bake pita or milling flour on stones, only takes places seasonally, in the winter and spring, Haaretz reported. The army and police sought to remove the Supreme Court's temporary order on the grounds that the petitioners misled the court, arguing that the outpost is a political provocation and not a cultural project. The security forces further contended that the court order prevents the removal of the tents but not of the individuals at the outpost … The IDF also made the area a closed military zone, thereby preventing new activists from reaching it. Police spokesman Micky Rosenfeld said the protesters were handed documents saying they were trespassing". This is posted here.
Meanwhile, Palestinians have been arriving on at Bab Al-Shams on foot, walking across the hills to avoid roadblocks, as this picture Tweeted by Abir Kopty at middday, here, shows: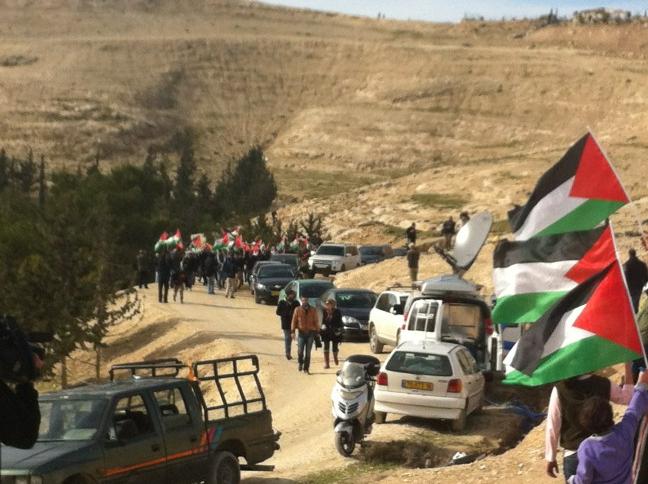 Activestills posted a shot, here, of Palestinian activists arriving in Bab Al-Shams this afternoonL
And Palestinians from the southern West Bank town of Beit Ommar also went through the hills to arrive at Bab Al-Shams, according to a photo Tweeted by Bekah Wolf:
@BekahWolf— PHOTO: Activists from Beit Ommar make it in to #babalshams going around Israeli military roadblocks this morning pic.twitter.com/nqa1crmh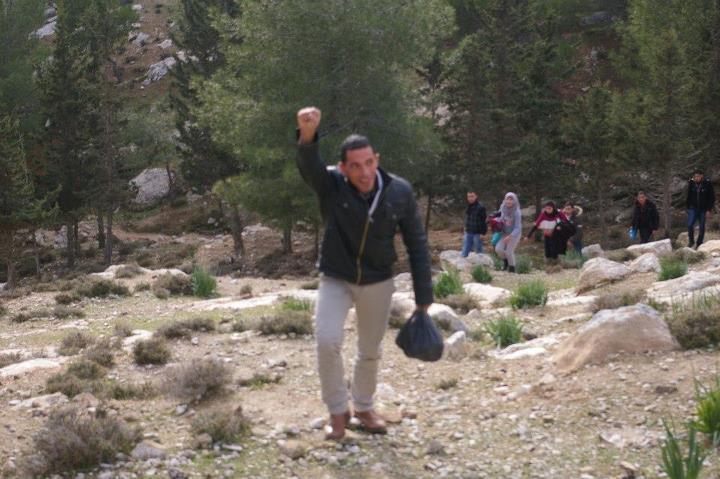 But, two Palestinian officials were prevented from arriving at Bab Al-Shams by car. Ma'an News Agency reported that "Israeli forces on Saturday prevented Palestinian officials from entering the E1 area east of Jerusalem to visit protest tents set up a day earlier by activists. 'The soldiers treated us improperly and savagely before they forced us to go back to Ramallah', PLO official Hanan Ashrawi told Ma'an. A vehicle carrying Ashrawi and PA minister of social affairs, Majida al-Masri, was stopped and searched at a checkpoint, with soldiers preventing the officials from continuing to the E1 area, despite holding Jerusalem ID cards". This is posted here.
Ashrawi later told Reuters' Noah Browning that "We will continue to try to enter the village of Bab el Shams, which to us means freedom".  This is posted here.
Sa'eb Erekat was also reportedly blocked from getting to Bab Al-Shams, while Dr. Mustafa Barghouthi, an elected member of the moribund Palestinian Legislative Council, was able to get through, probably by going on foot…