A lovely picture of the "Bab Al-Shams" tent village set up today by Palestinian activists in the E-1 area of the West Bank – Photo taken + Tweeted by Palestinian photographer Ahmad Daghlas and posted here: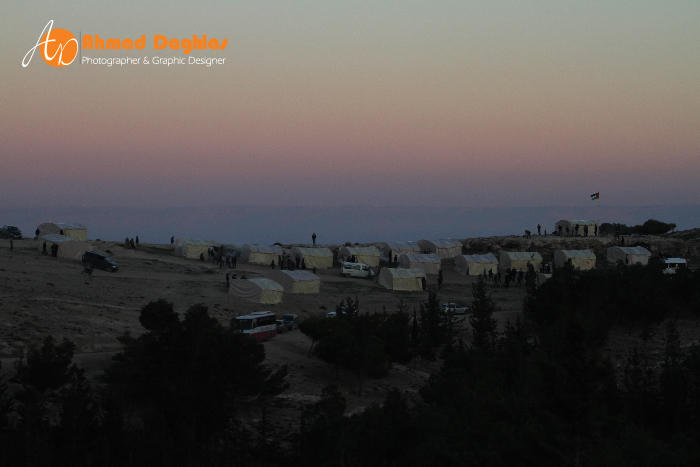 An earlier photo of the raised Palestinian flag is posted here: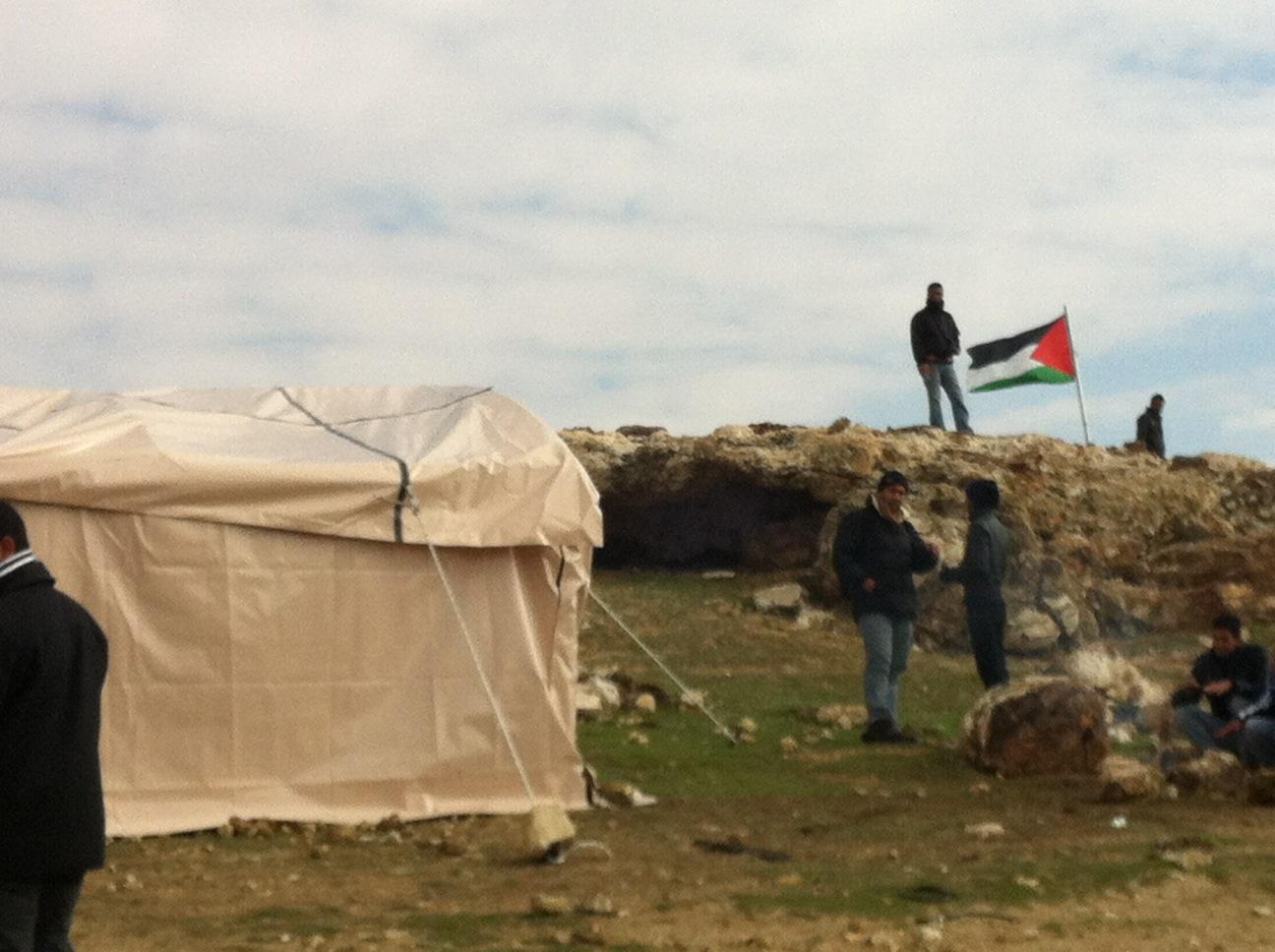 PLO Executive Committee member Dr. Hanan Ashrawi issued a statement of support, saying: "We have the right to live anywhere in our State".
Ashrawi added that "This initiative is a highly creative and legitimate non-violent tool to protect our land from Israeli colonial plans … and we call upon the international community, to support such initiatives, as well as to protect those who are being threatened by Israeli occupation forces for exercising their right to peaceful resistance against the illegal Israeli occupation".
Another good photo of the Palestinian flag being raised at Bab Al-Shams was published by +972 Magazine to illustrate a piece on Bab Al-Shams by Haggai Matar that's posted here:
UPDATE: Tweets on Saturday morning spoke of a night of bitter cold, and a possible imminent eviction threatened on a technicality:
Lema @Lemapal — Israeli military just announced to us that the court decision allows tents for 6 days not people. They make evict us soon #BabAlShams
This, its organizers have suggested, is — at least in the way it is being established and organized — the first Palestinian "settlement".
But, they Tweeted, they don't like this terminology:
BabAlshams @Bab_Alshams — For anyone referring to #BabAlShams as an outpost or settlement, we own the land this village is created on Palestinian land not land theft!
The New York Times reported here that "Adopting a tactic more commonly employed by Jewish settlers who establish wildcat outposts in the West Bank, scores of Palestinian activists and international supporters erected tents on Friday in a hotly contested piece of Israeli-occupied West Bank territory known as E1, and said they intended to stay put".
Reuters reported that " 'We are setting up a Palestinian village here where people will stay permanently in order to protect this Palestinian land', said Mohammad Khatib, one of the organisers of the tent village…'This is not a symbolic act, but comes in response to Israeli settlement building and we are sending a message to the international community that urgent action must be taken against Israel's settlement construction', Khatib said". This is posted here
The NYTimes blog, The Lede, also covered the story, reporting that "About 200 Palestinian activists set up camp, and a Twitter feed, on Friday in a part of the Israeli-occupied West Bank just east of Jerusalem known as E1ref=""… This is posted here.
By nighttime on Friday, it was announced that each tent was being connected to electricity, and a satellite TV was installed.
On Twitter, Internews journalist/editor/HuffPostblogger/producer Jamal Dajani took issue with the NYTimes use of the word *contested*:
Jamal Dajani @JamalDajani — Contested? "@nytimes: Palestinians Set Up Camp in Israeli-Occupied West Bank Territory http://nyti.ms/13nVBHR "
Israeli Police quickly arrived and informed the Palestinians they were "trespassing" and served several sets of eviction papers.  But, Abir Kopty Tweeted:
MT @AbirKopty We were ready for the eviction order so, while building #BabAlShams, we went to court & got suspending order!
Apparently, the land on which the tent village has been pitched is owned by a Palestinian family from East Jerusalem who have given their approval to this initiative…
The NYTimes article added that "The protest comes six weeks after Israel announced that it was moving forward with plans for thousands of settlement homes in E1, stirring international outrage. Israeli military authorities arrived on Friday and handed the protesters notices warning them that they were illegally trespassing and that they had to leave, according to a police spokesman, Micky Rosenfeld. Mr. Rosenfeld said he expected some movement 'at some point', with the protesters either leaving voluntarily or being removed by Israeli security forces. But the protesters said that they had anticipated such action and that their lawyers had already gone to court in Israel to argue for a delay in any evacuation until the state details the grounds for such a move. Protest leaders said the court had given the state six days to respond".
The NYTimes added that "Israeli plans to build in E1 have been vehemently opposed for years by international players, including the United States, which say construction there would partially separate the northern and southern West Bank, harming the prospects of a viable contiguous Palestinian state in that territory. Israel announced its intention as a countermeasure after the United Nations General Assembly voted in November to upgrade the Palestinians' status to that of a nonmember observer state. Israel wants to create contiguity between East Jerusalem, which it has annexed, and the large urban settlement of Maale Adumim that lies beyond E1, and says that the future of the West Bank has to be settled in negotiations. In the meantime, critics say, Israel continues to establish facts on the ground".
This is the exact reverse of the argument long used by Palestinians, and their supporters such as Israeli Attorney Daniel Seidemann, who say that Israeli construction in E-1, with its attendant security measures, will have the effect of cutting off East Jerusalem neighborhoods and preventing any of their natural expansion, just as it will also make travel very difficult between the north and the south of the West Bank, as well as with its eastern edge, where the Jordan Valley and city of Jericho as well as the Dead Sea are all located.
Abir Kopty, a spokeswoman for the coordination committee, spoke by telephone from the encampment to the NYTimes and said:
"We call this a village, not an outpost … because there is a huge difference between Palestinians living on their own land and settlers building illegally on our occupied land".
Ashrawi also said, in her statement, that "what this great initiative demonstrates, are the serious hardships that Palestinians face, just to live on their own land. Those who have challenged the occupation forces are being threatened simply for trying to peacefully make use of the land belonging to the occupied State of Palestine. What is happening at Bab Al Shams is reminder of the apartheid regime that Israel has imposed for the exclusive use of land for Jewish Israeli settlers all over Palestine".
And, Ashrawi said, "This is collective effort initiated by civil society, including youth, social, and political organizations, who came together to support the right of the owners of the land to make use of it as they see fit. We fully support and encourage non-violent popular resistance against the Israeli occupation throughout the State of Palestine".
It was announced earlier today by an email from the Popular Struggle Coordination Committee, which was established by Israeli "anarchists" who support Palestinian rights.
It seems that there are a number of Israeli-Palestinian-Arabs [who hold Israeli citizenship] among the activists who are at Bab Al-Shams today.
The statement sent in the morning from the Popular Struggle Coordination Committee said that "The village's name is taken from the novel, 'Bab Alshams', by Lebanese writer Elias Khoury.  The book depicts the history of Palestine through a love story between a Palestinian man, Younis, and his wife Nahila.  Younis leaves his wife to join the Palestinian resistance in Lebanon while Nahila remains steadfast in what remains of their village in the Galilee.  Throughout the 1950s and 1960s, Younis smuggles through Lebanon and back to the Galilee to meet his wife in the 'Bab Alshams' cave, where she gives birth to their children.  Younis returns to the resistance in Lebanon as his wife remains in Bab Al Shams.  Bab Alshams is the gate to our freedom and steadfastness.  Bab Alshams is our gate to Jerusalem.  Bab Alshams is the gate to our return".
Their statement announced that "250 men and women from across Palestine establish this morning a new Palestinian village named 'Bab Al Shams' (Gate of the Sun).  Tents were built [on the lands of al-Tur = does that refer to part of Palestinian East Jerusalem? Yes, the land is apparently owned by a family in a=Tur, on the ridge of the Mount of Olives.]  in what Israel refers to as area E1, and equipment for long-term living was brought". The statement continued:
"We, the sons and daughters of Palestine from all throughout the land, announce the establishment of Bab Alshams Village (Gate of the Sun). We the people, without permits from the occupation, without permission from anyone, sit here today because this is our land and it is our right to inhabit it.   A few months ago the Israeli government announced its intention to build about 4000 settlement housing units in the area Israel refers to as  E1.  E1 block is an area of about 13 square km that falls on confiscated Palestinian land East of Jerusalem between Ma'ale Adumim settlement, which lies on occupied West Bank Palestinian land, and Jerusalem.  We will not remain silent as settlement expansion and confiscation of our land continues.  Therefore we hereby establish the village of Bab Alshams to proclaim our faith in direct action and popular resistance.  We declare that the village will stand steadfast until the owners of this land will get their right to build on their land… Bab Alshams is the gate to our freedom and steadfastness.  Bab Alshams is our gate to Jerusalem.  Bab Alshams is the gate to our  return.  For decades, Israel has established facts on the ground as the International community remained silent in response to these violations.  The time has come now to change the rules of the game, for us to establish facts on the ground – our own land.  This action involving women and men from the north to the south is a form of popular resistance.  In the coming days we will hold various discussion groups, educational and artistic presentations, as well as film screenings on the lands of this village.  The residents of Bab Al Shams invite all the sons and daughters of our people to participate and join the village in supporting our resilience".