Yes indeed, it's clearer each day since Thursday's vote in UNGA, Palestinians do now have rising expectations…
This is something that Israeli Ambassador Ron  Prosor had warned of, in his address at the UNGA  in New York, just before the vote last Thursday that he by then had no hope of averting.
Posters hung on lamp posts in the city center [in English + Arabic] which say: "Warning: this is Palestinian land.  Occupation forces must leave".
Palestinian TV has gone all out to remind viewers, over and over, that Palestine is now a state.
PLO Chief Mahmoud Abbas returned to an organized hero's welcome in the Ramallah Muqata'a today, after travelling to the UNHQ in New York for the General Assembly vote that gave Palestine state status  [albeit still non-member in the UN].
The photo below was taken inside the Muqata'a by French journalist Emilie Baujard, and Tweeted here.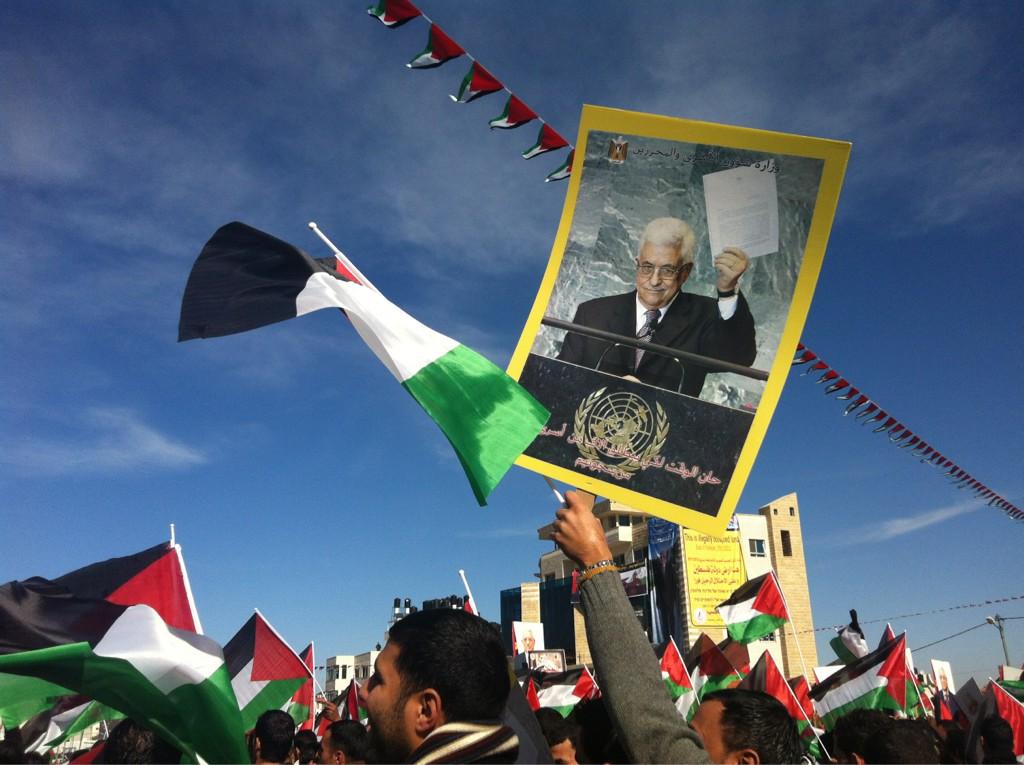 Abbas' first words were: "Yes, yes, we are now a state"…
He ended by citing these words: "hold your held up, you're Palestinian!"
After the Israeli announcements last week of expediting procedures to begin building in the E-1 area, as well as another 3,000 settlement units in the "Greater Jerusalem Municipality", and then today's announcement that some 460 million NIS [new Israeli shekels = $121 million US dollars] in Palestinian VAT + Customs Tax fees collected at Israeli ports would  now be withheld and instead diverted to pay outstanding PA electricity bills of some $200 million dollars, there apparently is still more to come.
Barak Ravid tucked the following revelation down at the bottom of his Haaretz article, published here, on strong European protests being made about the settlement announcements: "a source in the Prime Minister's Office said that Israel is planning to take more steps against the Palestinian Authority. 'The Palestinians will soon come to understand that they made a mistake when they took unilateral action and breached their treaties with Israel', the source at the PMO said".
Continue reading Yes, after UNGA vote, Palestinians do now have rising expectations