Who is this man, really? (He is the Chief of Staff of the Palestinian President.)  Is all this just another Israeli conspiracy? Or is there something seriously wrong here? Does responsibility start at the top? Or somewhere in between? Certainly, it also has to start inside the heart, and conscience, of each person, doesn't it?  What, exactly, is corruption? What is acceptable behavior for employers? What is acceptable behavior for men?  Where do they get such a sense of entitlement?  And why, if it was known for months, or even more, that there were problems here, might there only be action after an outcry, when the Israeli press takes up a massive campaign — while the Palestinian press goes into defensive mode?  What is the difference between this and l'affaire Taqrir Goldstone [Goldstone Report]?  Which scandal aroused more passionate public interest? What are the similiarities? [Hint, the tone-deafness, and the failure to realize the impact…]
This has previously been brushed away by calling it a "personal matter". AP is reporting that the Palestinian leadership is "rallying around" this man — but maybe not … Palestinian President Mahmoud Abbas — who reportedly has known about the accusations against this man, and the videotape evidence which was broadcast on Israeli TV this week — was in India and Pakistan today. This matter has, however, now reached such proportions that it is no longer possible to imagine this man to remain in official functions. The next question is, will people be so relieved just to see him retire from view that they will not want to ask questions about why the Palestinian leadership knew about this for so long, without doing anything other than brushing it under the carpet?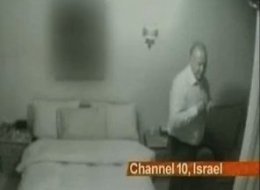 The AP report says that "In the video, broadcast by Israeli TV, xxxxxxxxx is shown undressing in a bedroom and calling out to an unseen woman, heard off camera, to join him.  A former Palestinian intelligence official who says he secretly took the footage in collusion with the unidentified woman says Husseini demanded sex with her in return for using his influence to solve a family problem".   This item is posted here.
See also our earlier post here (point 3) about the disgruntled former Palestinian Authority (PA) security official, Fahmi Shabaneh, and his claims.
AFP reported that "Palestinians were shocked on Thursday after Israeli TV aired a graphic video showing a senior official caught on a hidden camera soliciting sex from a job applicant.  The video, parts of which aired on Israel's Channel 10 earlier this week, was shot by former Palestinian intelligence officer Fahmi Shabaneh, who has accused the Western-backed Palestinian Authority of widespread corruption.  In the video, xxxxx xx-xxxxxxxxx, President Mahmud Abbas's chief of staff, is shown flirting with a woman Shabaneh said was seeking a job in the Authority before entering a bedroom, taking off his clothes and crawling into bed.  "How does this work? Should I turn off the lights or will you," he chuckles from inside the room to someone off-screen in the video, now widely available on youtube.  Moments later Shabaneh and several other security men walk into the room, surprising a naked xxxxxxxxx, who holds British citizenship, and confronting him with the allegations. The video was shot sometime in 2008″.  This AFP report is published here.
The Israeli TV Channel 10 report can be found in full on Youtube. In it, xxxxxxxx is seen sitting in a small living room with two women whose faces are blurred to disguise them. One of them was identified as a secretary in the man's office. The other one wants either a job, or some family issue resolved, or both. The women ask the man leading questions about the former and present Palestinian leaders, and he replies, with answers that are at the very least embarassing — whether true or not. Then, the man is shown undressing in a bedroom, calling out to a woman, to ask if he should turn off the lights. [There is no woman in the same room with him when he is undressed…] Then, the disgruntled PA security official and several other men walk into the room, and introduce themselves. The man gets dressed, without too much display of emotion.
Earlier in the day, Palestinian TV showed this man receiving a sports delegation from the United Arab Emirates.
By the evening, it was not only the Israeli media which had identified Rafiq Husseini by name — it was all over the main-stream media.  And Palestinian TV announced that Husseini would be making an appearance on the "All In The Open" live discussion, hosted by Maher Shalabi, after the regular nightly news.  He was joined tonight by Ma'an News Agency's Editor in Chief Nasser Lahham.  But, Husseini did not show up.  Instead, a statement was read on the air in his name, in which said he believed he was the target of a conspiracy to discredit him and the Palestinian President.  He promised to reveal the full truth in due time, and said he was ready to be held accountable if it were proven that his had done something wrong.
Then one of the women who was shown in the film was speaking on air via telephone line (the voice was recognizable from the videotape) — apparently the secretary — and she said the other woman had been her friend for many years. The friend had a problem (with her daughter, it seems), and they all went together to her house. All the lies that have been told are just unbelievable, she said, after speaking at length. Her account did not make sense.
UPDATE: One Palestinian journalist in Ramallah said that he turned off the program in disgust as soon as it was announced that Husseini would not be participating. "I was hoping he would come forth and apologize", this journalist said. "I could have forgiven him if he had offered an apology … Despite his very important position as one of the closest adviser to Abbas, he is new to politics, and has been here only five years. Before that, he was in London, working for at least 15 years with an organization providing medical aid to Palestinians. And, his wife is still in London".
The AP story, developed later, reported additionally that "Shabaneh said he began investigating Husseini after a woman complained that the chief of staff made suggestive remarks when she went to his office to ask for help with a family problem. Shabaneh said he set up cameras in the woman's apartment, with her permission, and filmed Husseini's next encounters with her. In the video, Husseini is shown sitting on a couch in a living room, flanked by two women Shabaneh identifies as Husseini's secretary and the unidentified woman who sought his help. During their conversation, Husseini is heard describing Abbas as aloof and lacking charisma and says Arafat surrounded himself with crooks. At some point, Husseini alludes to his own influence. 'Would you like a decree? Would you like me to issue a presidential decree for you?' he asks, though it's not clear to which of the two women the remark is addressed. In a later scene, Husseini is shown undressing, alone, in a bedroom. He gets into bed, plumps the pillows and calls out to the unseen woman to join him. 'Do I turn off the light or do you? What is the procedure?' he is heard asking the woman.  Moments later, Shabaneh enters the room with three other men and identifies himself. Husseini jumps out of bed and gets dressed.
The official Palestinian media have not reported the details, but the video appeared on YouTube and quickly became a main topic of conversation across the Palestinian territories. The independent West Bank-based Maan news agency urged Husseini in an editorial to step down pending an investigation, arguing that he could no longer carry out his job effectively. 'This is embarrassing to the Palestinian Authority, this is embarrassing to our people, this is embarrassing to our families', Maan editor-in-chief Nasser Laham, who wrote the editorial, said in an interview. However, Laham also portrayed the Abbas aide as a victim of a smear campaign, calling Israeli TV's airing of the footage 'a lynching'. Jibril Rajoub, a senior Fatah official, promised an investigation. 'There will be accountability, if it was proven that there were excesses', he told Palestine TV. He said he believes the video is a result of entrapment, but that Husseini bears some responsibility". This developed AP story can be read in full here.
It seems that PA officials have grown accustomed to the idea that "corruption" only involves donor money, and all the rest is … fair game. Yesterday, the Israeli newssite YNet published a story saying that "A high-ranking PA official said Wednesday to Ynet that the video revealed by Shabana is a personal issue known for quite some time and that his staff are not rattled by the corruption claims. According to the official, the PA maintains transparency with donor countries and operates a strict oversight mechanism on their payments … the PA noted that Shabana first negotiated with them to exchange monetary compensation in exchange for not publishing the claims reported Tuesday. 'If we had any concern, we would have closed that file by paying Shabana', said the PA official".   This YNet story can be read in full here.