Today is Day 3 of the IDF's Operation "Pillar of Clouds", also known as Operation Defense Pillar against Gaza.
Last night, two Fajr rockets fired from Gaza reached the Tel Aviv area. [Qassam Brigades were calling them Qassam M-75s.]  Earlier in the day, three Israelis were killed by shrapnel after a direct rocket hit on the top floor of an apartment building in Kiryat Malachi.
Overnight, the IDF carried out at least 150 strikes on the Gaza Strip, including on on the Civil Affairs office in the Ministry of Interior in Gaza.
UNRWA photographer Shareef Sarhan took this picture showing the damage to the Civil Affairs office. here.  Other pictures are viewable on the Activestills Flikr page photostream, here.
The Palestinian Center for Human Rights [PCHR] sums it up: The "most significant targets was the building of the Civil Department of the Ministry of Interior in Tal al-Hawa neighborhood in the south of the City. The building was totally destroyed and a number of nearby buildings and houses were heavily damaged. Israeli fighter jets bombarded also the building of the Collection and Inspection Center of Gaza Municipality near Abu Mazen Square. The building was completely destroyed and a number of nearby houses and buildings were heavily damaged. Israeli fighter jets further bombarded a plot belonging to an ecclesiastic center near the Roots Restaurant in the southwest of Gaza City. Additionally, Israeli gunboats bombarded an electricity transmitter near the house of Prime Minister Ismail Haniya in the Beach camp. A number of houses and a civilian car were heavily damaged".
PCHR has called for an urgent meeting of the UN Human Rights Council in Geneva to examine the situation. As to the UN Security Council, well, it met on Wednesday night after a request from Egypt, but took no decision. The only outcome was a decision that UN Secretary-General BAN Ki Moon would travel to the region on Tuesday — but he does not intend to go to Gaza. UNSG BAN Ki-Moon will apparently have talks in Israel on Wednesday. Mahmoud Abbas announced to the PLO Executive Committee this evening that UNSG BAN would be coming to Ramallah on Thursday.
The Arab League will meet on Saturday afternoon in Cairo, after a delegation led by the Tunisian Foreign Minister, possibly accompanied by the Secretary-General of the Arab League, Nabil al-Arabi and maybe some other officials from other Arab countries, hopes to enter Gaza via Egypt on Saturday morning…
On Friday morning, a delegation of Egyptian officials led by Prime Minister Qandil and accompanied by Egyptian Special Forces entered Gaza on Friday morning to assess the situation, and were received by Hamas' Ismail Haniyeh.  As they entered Shifa Hospital in Gaza City, a small child who had just died from an Israeli strike was brought in, and the two men cradled the body.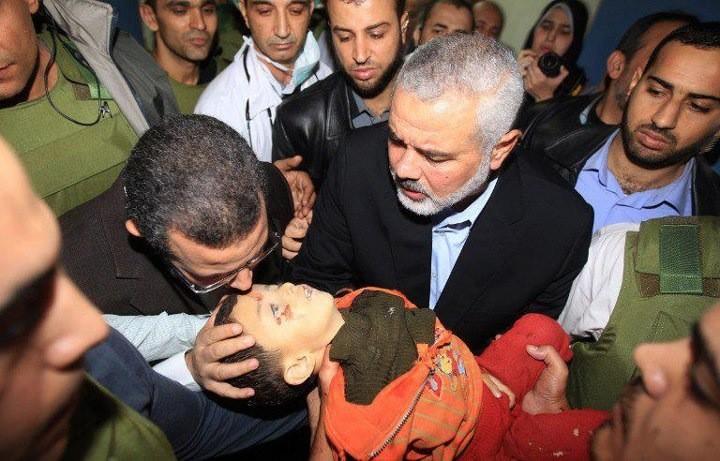 The photo was posted on Twitter by Hazem Balousha [@iHaZeMi].  Pool photo by Mahmud Hams.

Israeli Prime Minister Netanyahu said Israel would serve a 3-hour cease-fire for the visit of the Egyptian delegation on condition that no projectiles were fired from Gaza onto Israel — but there was very little let-up.  Several journalists in Gaza reported outgoing projectiles. Journalists also reported incoming [though IDF spokespeople said there were no attacks during the Egyptian PM's visit.
A little later, there was an execution of a collaborator in Gaza, which the NYTimes reported on, here.
By the end of the day [Friday] the Palestinian death toll in Gaza rose to 30, with some 250 injured — and climbing. There were no Israeli deaths from Gaza firing reported on Friday.
The IDF says it has carried out over 600 operations in Gaza since Wednesday, and that the resistance groups there have fired over 500 projectiles at Israel. Israel's Iron Dome missile defense system, sponsored by the U.S., has been successful in shooting down some missiles or rockets [about 109, so far] that would have hit civilian areas, but it has been costly, with each missile costing more than $50,000… [costing some $5 million in used interceptors, used so far].t
NBC news website has posted a short account of how the Iron Dome system works, here. The NBC news account says the Iron Dome system is "built" by Rafael military industries in Israel — though the design is American [from the Star Wars period], as is most of the funding which was ramped up in the Obama Administration, which rolled out its policy of ensuring that Israel have a Qualitative Military Edge [QME] in the region.
The NBC news says that "The U.S. partly bankrolled the development of Iron Dome, beginning with a $200 million request by President Obama in 2010, later approved by Congress. As much or more is currently being considered for inclusion with other defense spending, though it may be contingent on a technology-sharing agreement between Israel and the U.S. Israel introduced Iron Dome in March 2011, and it intercepted its first enemy rocket that April".
According to the NBC news account, "A radar unit watches for threats in a radius up to about 40 miles. Information on spotted projectiles is passed to a Battle Management and Control truck, where the information is evaluated and the command is given to either intercept or ignore. The projectile data is then passed to the interceptor unit, which launches a missile programmed to cross paths with the incoming rocket or shell, and detonate it in a way that is as harmless as possible".
BBC has published a graphic as part of this report here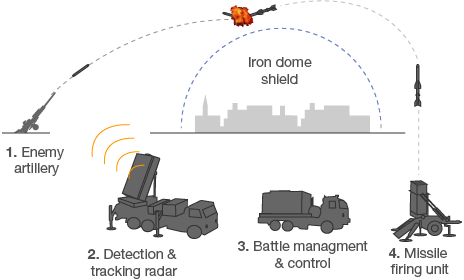 .
The BBC report explains how Iron Dome works this way:
1. Enemy fires missile or artillery shell
2. Projectile is identified and tracked by radar. Data is relayed to battle management and control unit
3. Data is analysed and target ting coordinates are sent to the missile firing unit
4. The missile is fired at the enemy projectile exploding nearby to destroy the munitions
A fifth Iron Dome battery, with advanced capabilities, is due to be put into service by the Israeli military, with the assistance of Rafael personnel, starting Saturday night [two months early]. UPDATE: The IDF spokesperson account on Twitter reported it was deployed by midday Saturday, to protect Tel Aviv.
Each Iron Dome battery costs some $50 million. Israel reportedly wants to have 13 of them. Each interceptor the battery shoots costs $40,000.
Several Fajr rockets — reportedly imported from Iran — hit Tel Aviv for the second day. And, a few more hit the outskirts of Jerusalem, causing great surprise. [The missiles that reached almost to Jerusalem are being called Qassam M-76s… Hamas claims they are home-made].
The Israeli security cabinet was meeting Friday night to evaluate developments, as the IDF recommendation to increase the call up of reservists to 75,000 was approved by Defense Minister Ehud Barak and passed up to the cabinet for consideration, and certain approval. UPDATE: Though Ministers were instructed not to speak to the press, it was understood by 11:00 pm that a green light had been given for a ground operation.
It may be that Israeli plans are to take Gaza and hand it back on a platter to the Palestinian Authority in Ramallah…  Would restoration of PA control in Gaza, in turn, make it possible for Israel to agree to Palestinian President Mahmoud Abbas' declared intention — repeated at a meeting of the PLO Executive Committee in Ramallah this afternoon — to go to the UN General Assembly and press for a vote by 19 November on an upgrade to non-member observer STATE status…
This Israeli military operation began with the targetted assassination of Hamas military chief Ahmed Jabari, followed immediately by attacks on suspected missile storage sites — but that did not knock out the Hamas capability.
The intelligence company Stratfor wrote in an email that "The targeting of Israel's largest population center raises the specter of a ground operation…Stratfor expects rocket fire into the area where nearly 40 percent of the country's population resides — and extending rocket fire to an area that now includes over half of the country — to result in firmer action taken by the Israeli military to remove this threat. Regardless of where the missile hit, the incident indicates that Gaza still has Fajr-5 rockets despite Israel's efforts yesterday to eliminate those stockpiles. The revelation that Gaza militants still have Fajr-5 missiles in their arsenals means that the airstrikes yesterday were incomplete…The IDF's official website and multiple media sources have already reported that paratroopers and soldiers from the IDF's Givati infantry brigade are beginning to prepare staging areas on the Gaza border for a ground offensive".
By nightfall on Friday, Israeli police had declared three roads around Gaza as "closed military zones".
Qassam Brigades Tweeted that they had also shot down an Israeli war plane [helicopter] — but there was no confirmation.
The IDF, on the other hand, Tweeted an undated video of Hamas reportedly testing a UAV [or drone]. Otherwise, by nightfall, much of Israel's messaging had slowed down or stopped. For operational security? Or Shabbat?
Jeffrey Goldberg has taken issue, here, with the tone that Israeli communication strategists have put out since the start of Operation Pillar of Clouds: "Israel's media campaign — Gamify? — is disgraceful. David Rothkopf just pointed out to me that people are most influenced by their enemies. In this case, the braggadocio of the IDF is beginning to resemble the braying of various Palestinian terror outfits over the years. All death is tragic, even the deaths of your enemies".