As the day dawned, there was red light on the Ramallah horizon, with the rest of the sky covered with a layer of grey clouds, as the late Palestinian leader Yasser Arafat's mortal remains were exhumed and brought up for forensic testing by teams of Swiss, French and Russian experts.
"Red in the morning, a sailor's warning"… a traditional warning of storms ahead.
UPDATE:  Despite the 3:00 pm report on BBC World News from the BBC correspondent in Ramallah Jon Donnison,  after the exhumation was finished, saying he personally believed it was quite unlikely that there will ever be any conclusive results from today's forensic testing, the BBC right afterwards ran an interview with Scottish forensic investigator David Barkley who said that "it's almost certain already", from the results of the testing done in a Swiss lab, that Yasser Arafat was poisoned with polonium.

Barkley appeared in the Al Jazeera Investigates program "What Killed Arafat?", aired at the beginning of July, which made necessary this exhumation and forensic testing of Arafat's remains. In that program, Barkley said that Swiss lab testing showed unexpectedly high levels of polonium [of the type that can only be a by-product of a nuclear reactor] in the spots of blood, urine and sweat tested on Arafat's clothing. When tested for comparison, he said, the areas of clothing around those spots showed only "background" levels of polonium [of the type found in nature].

Barkley told the BBC World TV news this afternoon that if the results of testing of samples taken in today's forensic procedures match the results earlier found in his clothing, that "probably does prove" that Arafat was poisoned and murdered.

Robert Fisk wrote in the Independent here, that "it is much to al-Jazeera's credit that they pushed to have his hat and urine stains from his pants examined in Switzerland. That's when the polonium-210 was discovered"…
Media workers outside Muqata'a in photo [Sipa] posted on Nouvel Observateur website here
Media crews were kept behind Palestinian police barricades put up a couple of weeks ago, outside Ramallah Muqata'a, during Arafat exhumation + forensic taking of samples for testing [which will take months].  The exhumation + sampling was done out of the public view.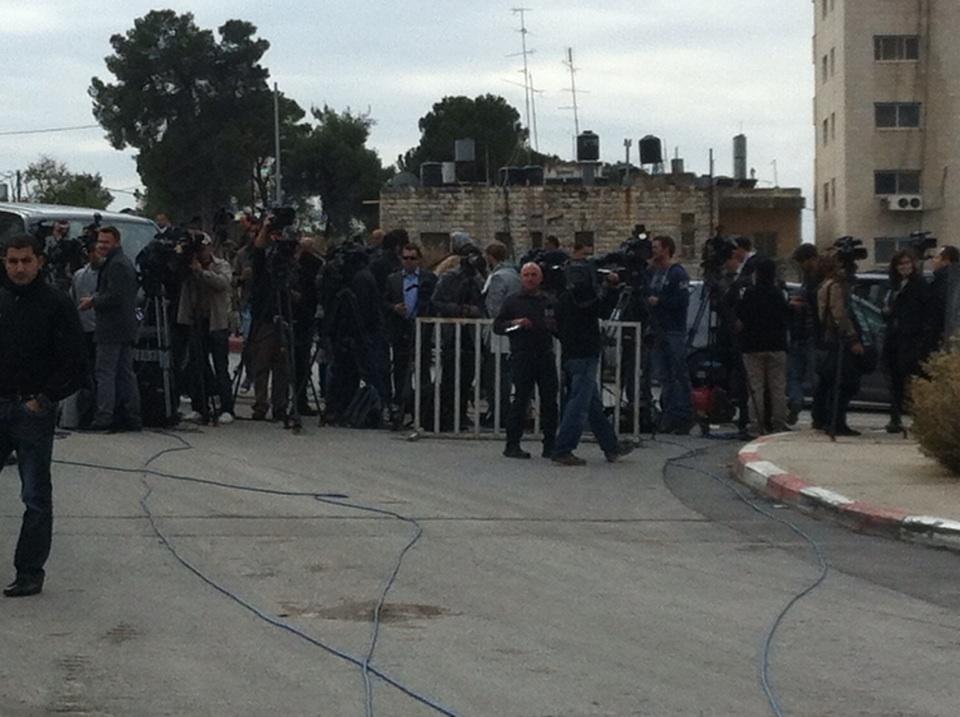 Photo of more media workers outside the Muqata'a today – Tweeted by @RZabaneh and posted here
.
In a press conference held at 2:00 pm in the Ramallah Muqata'a,  Dr. Abdullah Bashir, head of the Jordanian Medical Association [who has been working on the Arafat case for several years on behalf of the Yasser Arafat Foundation, run by Arafat's nephew Nasser al-Qidwa] said that the exhumation began at 5:00 am.
Tawfik Tirawi, head of the Palestinian inquiry that has already been underway for several years, told journalists at the press conference that the results of the tests can be expected after about four months.  "We want to arrive at the truth", Tirawi said.  The Palestinian Authority Minister of Health, Dr. Hani Abdeen, said in response to a journalist's question that "the state of the body was exactly as expected, in the case of somebody buried eight years already".
Al-Jazeera reported here that a group of Palestinian officials were witnessing the procedure, but no family, and also not Suha Arafat's lawyers. The Al-Jazeera report said that its journalists had been followed around Ramallah in recent days by Palestinian security forces.
Suha, however, told CNN's Christiane Amanpour that she had watched the exhumation from her residence in Malta. It seems, but it is not completely clear, that a private TV feed may have been arranged for family members.
Suha Arafat in Malta watching her husband's exhumation in Ramallah – 27 Nov 2012 – Reuters blog here.
There is not a religious problem with exhumations, but some consider it disrespectful. The Palestinian arrangements for today's exhumation + forensic testing — supervised by Tawfik Tirawi — emphasized respect for deceased, honor for national leader, Palestinian "sovereign" control of the procedure. Tirawi told journalists that only Palestinians would touch Arafat's mortal remains.
Tirawi was at Arafat's side during several years of Israeli siege of the Muqata'a, and who was once the head of Palestinian Preventive Security but now oversees the Palestinian Authority Police Academy [Al-Istiqlal University] in Jericho
Al-Jazeera reported that "On Monday night, workers with hand tools drilled through more than 4 metres of concrete over Arafat's body.  Investigators have collected several samples on the way down to look at polonium levels".
The 4-meter burial depth was a surprising revelation by Al-Jazeera producer Clayton Swisher, @clayswisher on Twitter, in an Al-Jazeera blog post published last Friday, here.
UPDATE:  Tawfik Tirawi explained, in the course of the afternoon  press conference in the Muqata'a that Yasser Arafat had not been buried at a depth of 4 meters, but at what he said was the Islamically-prescribed depth of 1 meter + 70 cm, but that somehow — apparently in the course of the construction of the mausoleum, and because of the topography of the site — additional earth had been put on top of the grave, so that the depth of Arafat's remains had to be dug out at 4 meters deep.
A strange detail, still not entirely explained, reported earlier this morning: Palestinian officials said Arafat's remains would be taken to "nearby mosque" [not the Muqata'a conference room also used for Friday prayers, it seems, but a prayer area inside the mausoleum itself].
But, it was reported by midday, the sampling was actually done in the grave itself, so it was explained that reburial was not needed.  The planned military funeral therefore was not held, but there was a wreath-laying ceremony with honor guard when the tomb was sealed back up.
The forensic testing will be done in Switzerland — at the same renowned forensic laboratory in the Swiss city of Lausanne that discovered the unusual levels of "unsupported" Polonium in testing done at the behest of Al-Jazeera's Investigation Unit last year, which the Swiss lab did for free.
There will also be separate testing in France [despite the fact that authorities say that tissue and fluid samples taken during Yasser Arafat's hospitalization prior to his death on 11 November 2004, are somehow missing and no longer available]. And, there will also be testing in Russia.
Two years after Arafat's death — that is, in 2006– a defected Russian ex-spy Alexander Litvinenko, who openly criticized the Kremlin leadership, died an agonizing death in London some three weeks after meeting with a mysterious group of Russian businessmen in a restaurant, where he was apparently poisoned by eating or drinking something (tea?) on which a minute amount of Polonium had been placed.
The Al-Jazeera Investigates hour-long program, "What Killed Arafat?"., produced by Clayton Swisher, reported the tests that discovered unusual levels of a type of Polonium that comes only from nuclear reactors. It can be watched here, and is also embedded below:
Compare this to the full version of Suha Arafat's call to Al-Jazeera TV from Percy Military Hospital in Paris on 7 November 2011:   MEMRI: Suha Arafat: Allah Akbar, Palestinian Leaders Want to Bury My Husband Alive.
Questions: Nasser al-Qidwa always believed his uncle Yasser Arafat was poisoned, so why is he now so opposed to exhumation and forensic testing for confirmation?
Questions:  this one is to Clayton Swisher and has been put on Twitter [@clayswisher]: Who initiated the Al Jazeera investigation? Whose idea was it to carry out the Al-Jazeera investigation that started about year ago, and that resulted in the July airing of "What Killed Yasser Arafat?"?
Questions: Why did Suha Arafat oppose autopsy + forensic examination at time of Yasser Arafat's death in November 2004? [On the Al-Jazeera Investigates program, "What Killed Arafat?", Suha told Clayton Swisher on camera: "It did not even occur to me to ask for an autopsy.  You know when you are under the shock, nothing occurs to you".  However, this contradicts earlier reports that Suha refused the autopsy in 2004.  Some of Suha's statements in the Al-Jazeera program seem rather staged.  At the very least, they appear to have been re-enacted especially for on-camera filming for this program.  In an interview with The Times of Malta, today, Suha said: "I was never asked (to give permission for an autopsy). His body was not in my possession. It was with the Palestinian Authority and it went to Ramallah and was buried".
Questions: How is it that French authorities gave possession of Yasser Arafat's body to the "Palestinian Authority", after recognizing Suha Arafat both before and since as his next-of-kin with decision-making ability over his medical care?
Questions: Why did Egyptian scientists / doctors decline Palestinian invitation to form 4th team working on exhumation + forensic testing?
Some answers to questions put by others, elsewhere:  What is left to examine after 8 years? Bones — very important. Also skin, hair, nails… and the earth [or concrete?] in which Arafat's remains were enterred
Some of the unknowns: What will this exhumation + forensic testing be able to prove? Will those responsible for + complicit in this possible poisoning [+ murder] ever be known?
But, without doing this exhumation + forensic testing, any judicial investigation + any eventual legal arguments will be incomplete.
Tirawi confirmed today that he has questioned hundreds of Palestinians in the wake of Arafat's death in 2004.  He also indicated that the team of French judicial authorities who arrived in Ramallah a few days ago were witness to the questioning of ten Palestinians — but, the questioning was done only by Palestinians.
In accordance with his agreement with the French judicial team, Tirawi said, the French could only ask questions they first put in writing, and submitted to Palestinian interrogators to ask directly of the Palestinians being questioned.
Tirawi said in today's press conference the same thing he said in a press conference just after the Al-Jazeera Investigates program in early July, and again in an interview at the end of August — that political, security and military officials in Israel had all said that Yasser Arafat should be killed. Tirawi said there was no reason not to believe them.
The Wall Street Journal's Charles Levenson wrote today that "Mr. Tirawi said his committee long ago concluded that Israel had poisoned Arafat, which Israel denies.  Israeli officials note that Palestinian officials are the ones who long prevented publication of Arafat's medical files".  This is posted here.
While the second sentence above is not contested, it would not be correct to say that Israeli officials have always and unanimously denied any part in Arafat's death. Itamar Marcus and Nan Jacques Zilberdik wrote an opinion piece published in the Jerusalem Post here that "Evidence abounds that Arafat was the force behind the terror war against Israel … Did Israel kill Arafat? We may never know, but that is not the critical question. What is important is that Arafat's role as the terror leader made him no different than the other terrorists who pulled the triggers or detonated suicide belts. The year was 2004. Over 1,000 Israelis had already been murdered under Arafat's guidance and direction. Arafat wasn't just a political leader during a conflict; he was leading a terror war that was targeting and murdering civilians at every opportunity. There was ample justification if Israel had wanted to kill him".
David Barkley, the Scottish forensic investigator who appeared in the Al-Jazeera Investigates program, told BBC World TV today that while it is always difficult to track down a murderer in the cases of delayed poisoning,  "it would have to be somebody with access to polonium and somebody with access to Yasser Arafat".
The Guardian's Chris McGreal reported from Ramallah today, here, that as a result of the findings of the Al-Jazeera Investigates program, "Suha Arafat, a French citizen, asked the French government to launch a murder inquiry. The Palestinian Authority, suspicious of Arafat's widow – who is not a popular figure among Palestinians in part in part because she is regarded as having enriched herself – and the French and Swiss experts she hired, called in Russian scientists to do separate analysis. This week, French magistrates have been questioning Palestinian officials who were besieged with Arafat in the Muqata because it's unlikely the PLO leader's food or drink could have been poisoned without a collaborator in the building. The Israelis had an opportunity to interfere with food deliveries which passed through their checkpoints during the siege. But they had no way of knowing who would be eating what and the fact that there was no mass poisoning inside the Muqata would mean that Arafat's food was contaminated by someone with direct access to it".