After hours of deliberation, Israel's Cabinet voted on Monday to authorize the release of 104 of the longest-held Palestinian prisoners in Israeli jails.
There was a delay of one and half hours before the start of the cabinet meeting, as Israeli Prime Minister Benyamin Netanyahu moved to shore up his own Likud party and make sure he had enough votes to pass the motion.'
Citizens were protesting outside Netanyahu's office. A mountain of meanness was being expressed about the prisoner release, and the word "terror" was getting quite a workout.
Dani Dayan, for example, Tweeted this:
@dandayan — Releasing terrorists for peace, is like trying to put out a fire with gasoline, it is dangerous, immoral and irresponsible.
@dandayan — Who did John Kerry set free? My piece at @TimesofIsrael . Releasing terrorists is obscene. http://dlvr.it/3jx4VK
@dandayan — a) I see no reason for any payment for the right to negotiate. b) Release of terrorists is morally flawed
@Marianhouk — Where is the leader who'll tell his people that both sides have suffered? MT @DanWilliams Netanyahu: "Don't lecture me abt fighting terror".
According to Haaretz correspondent @BarakRavid on Twitter, Netanyahu reportedly told Likud ministers that "every Palestinian provocation will result in halting of the prisoner release process", and also that "every decision to release Arab-Israeli prisoners will be brought back for a vote in the cabinet"…
UPDATE: Barak Ravid later wrote in Haaretz here that this latter proposal was based on a suggestion from Minister Silvan Shalom: "During the debate, Shalom proposed a compromise that eased the way for many Likud ministers to not vote against. Under the proposal, which was adopted by Netanyahu, any decision to release Israeli Arabs would require a new vote by the full cabinet. Based on the tentative schedule of prisoner releases, such a discussion is likely to take place, if at all, only in another nine months".
Haaretz writer @AnshelPfeffer Tweeted slightly earlier that:
No PM in #Israel ever lost vote on releasing prisoners. #Netanyahu trying to "convince" ministers meant to show how "hard" the decision is
But, this leads to questions:
@Marianhouk — So it can be stopped if there are problems in talks? MT @rcolebourn – #Israel PM: prisoner releases will only happen after talks start + in a staged way…
Meanwhile, Mahmoud Abbas called his Government ministers to the Muqata'a for a [rare] meeting at 2 pm.
And, a protest demonstration was called by the PFLP in Ramallah at noon.
@DaliaHatuqa reported that according to @Addameer:  A Ramallah demo against negotiations was broken up by PA police who beat protesters, including PLC member Khalida Jarrar
@RZabaneh Tweeted an amazing video of the clashes duringt the #PFLP protest against the resumption of negotiations. http://youtu.be/yF-IfN7Uw1Q
@LinahAlsaafin wrote that Demo against negotiations broken up by Palestinian Authority. PA is now arresting injured demonstrators from Ramallah Hospital v @Addameer
During the wait for the Israeli Cabinet vote, @DaliaHatuqa Tweeted that The Palestinian Prisoners' Society published the list of names of detainees expected to be released = http://bit.ly/1c2lp3g
And, a PLO official told Haaretz that "The release of all the prisoners was an agreement between the U.S. + Israel, not between Israel + the Palestinians…Based on this agreement, the Americans received our consent to renew talks"…
The Israeli Cabinet then voted to require a referendum on any negotiated deal that would involve withdrawal from "Israeli territory". [More on this in a later post]
PRI's The World [a collaboration between the BBC World Service and National Public Radio, NPR] reported here that "There's never been a referendum of any kind in Israel".   It also reported that Pollster Tamar Hermann said the opponents of "creating" a Palestinian state alongside Israel "are more likely to show up at the ballot box", than those in favor [so the "No" votes could well win…]
@BarakRavid wrote, during the wait for the vote, that Netanyahu "is acting like a prisoner of his right-wing govt, a hostage of his coalition partners + captive of his party … It isn't clear why Netanyahu is acting so weak … If Netanyahu had wanted to show leadership, he would have convened Likud ministers a week ago"+, presented his plan, and said any ministers opposed should resign". Ravid's full article is posted here.
Finally, after several hours without news, @BarakRavid Tweeted the vote:
Breaking: Israeli cabinet approves the release of 104 Palestinian prisoners. 13 ministers voted in favor, 7 voted against and 2 abstained
@Marianhouk
Now, will it be a problem in Ramallah that Netanyahu said no prisoners will be released before talks, release will be in 4 stages over 9 mo?
Will it be a prob in Ramallah that the Israeli cabinet will meet again to vote before every release of an Israeli citizen on the Palest list?
And, will it be a problem in Ramallah that the release of 104 prisoners can be stopped at any time, if Israeli has a problem with anything?
Palestinian Govt spojesman Ehab Bessaiso told  me that "the Pres put the Govt ministers 'into the picture with respect to the negotiations', and that no decision was taken [it wasn't that kind of meeting]…
@Marianhouk
The Palest delegation is going to talks in Washington on Tuesday. Statement just issued in Sa'eb Erekat name urges Israel to seize the oppty
Sa'eb Erekat welcomed implementation, 14 years later, of 1999 Sharm ash-Sheikh agreement on release of Palest politi prisoners in Israeli jail, and said that "The decision includes all Pre-Oslo polit prisoners that remain in Israeli prisons, including Palest from Israel"
Sa'eb Erekat said ""We will continue working for the release of all our political prisoners…
And Sa'eb Erekat urged Israel to seize the opportunity created by #SecKerry for resumption of negotiations in order to "put an end to decades of occupation  + exile  … and to start a new stage of justice, freedom and peace for Israel, Palestine and the rest of the region".
What made it possible for the Palestinians to agree to go to Washington was not only today's Israeli Cabinet vote, but also the guarantee Palest received from Washington [Kerry] that talks will be based on pre-4-June 1967 lines:
@Marianhouk
The Palest [+ presumably also Israel] rec'd "letter of assurance" on the weekend stating v clearly negot will be based on 4-June-1967 lines
What was important today, I was told, was to get the commitment from Israel, voted + approved, to release the 104 prisoners in 4 stages [6-9 mos]
The "letter of assurances" specified 6 to 9 month framework for negot which will cover "all the issues". 1st topics: territory + security
It seems to be recog that 1st group of Palest long-term prisoners will be released "within days" [not necessarily before but possibly just after Tuesday talks,  or at least by Eid… which falls around 9 or 10 August]
The Palestinian delegation to Washington talks will be: Sa'eb Erekat, Muhammad Shtayyah + lawyer from PLO Negotiations Support Unit [Israeli side: Tzipi Livni + Yitzhak Molcho…]
The Times of Israel reported here that Israel's Justice Minister Tzipi Livni is flying to Washington already on Sunday night.
Invitations were delivered by hand on Sunday afternoon.
The photo above, of Mahmoud Abbas receiving the invitation from an American diplomat [the U.S. Ambassador to Jordan, Stuart Jones, as it happens], was Tweeted by Rania Zabaneh:
@RZabaneh — Don't know what to think about picture of President Abbas receiving US invite to send delegation to DC for talks: pic.twitter.com/ixKWBH7ZPd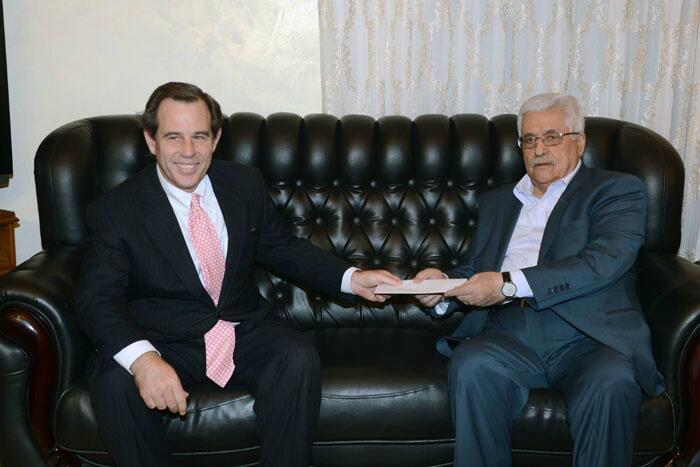 Rania Zabaneh also Tweeted that the President's office confirms receiving an official US invitation to send a delegation to Washtington in order to restart talks…Abbas spokesperson: 1st meeting aims at developing an action plan to move the talks forward in upcoming months.
The State Department confirmed later that the talks would be Monday night and Tuesday in Washington.  Jodi Rudoren @rudoren Tweeted that the State Dept just officially announced resumption of "direct final-status negotiations" between Israel & Palestinians Mon nite and Tues
@Marianhouk
There will be a dinner in Washington on Monday  hosted by US and attended by both Palestinian + Israeli delegations, talks later in evening + on Tuesday
UPDATE: Barak Ravid's later report, published here, says: "The sides will meet at an Iftar dinner that breaks the Ramadan fast, to be held at the home of U.S. Secretary of State John Kerry. The dinner will be relatively informal and is intended primarily to establish a friendly atmosphere.  However, a senior Israeli official noted that the parties will begin discussing the agenda for negotiations during dinner".
UPDATE: The State Department said that "As Secretary Kerry announced on July 19 in Amman, Jordan, the Israelis and Palestinians had reached agreement on the basis for resuming direct final status negotiations. The meetings in Washington will mark the beginning of these talks. They will serve as an opportunity to develop a procedural workplan for how the parties can proceed with the negotiations in the coming months".
The Palestinian-Israeli talks starting in Washington tomorrow will not at 1st be negotiations per se [but only after both sides approve a framework].  The  Jerusalem Post says the talks will begin "informally".
Later Sunday evening @MariamBarghouti Tweeted that there is Protest in #Ramallah now demanding the release of those arrested earlier by PA during protest against negotiations. #No2Negotiations
@Marianhouk
Only 2 Israeli Govt ministers visited Area A since the Second Palestinian Initifada in 2000: PM Olmert met Abbas in Jericho [Aug 2007 before the Annapolis talks] + Silvan Shalom went to a meeting at the Jericho Intercontiental on Thursday last week to discuss a proposed new joint industrial zone.

Interestingly, the Olmert visit to Jericho in Aug 2007 came just 5 months after the IDF raid on Jericho jail [UK + US guards told to disappear] to get Palest hi-value prisoners [who are not long-held enough to qualify for release in the deal confirmed today]…
Perhaps during the Washington talks in the coming days there will be the appointment of a day-to-day negotiator. Former U.S. Ambassador to Israeli Martin Indyk was last week named as the certain nominee — only to recede from view later, perhaps because of Israeli objections? Rachel Cohen wrote on The Daily Beast here: "For starters, we can expect Indyk to be tougher on Israelis than past American diplomats have been"…