After nearly a year of waiting, following the November 2012 exhumation (for testing) of the remains of the late Palestinian leader Yasser Arafat from his mausoleum in the Ramallah Muqata'a, Al-Jazeera reported today that a Swiss forensics laboratory in Lausanne found very very high levels of Polonium 210 in Arafat's bones, in his burial shroud, and in the soil in which his body was buried.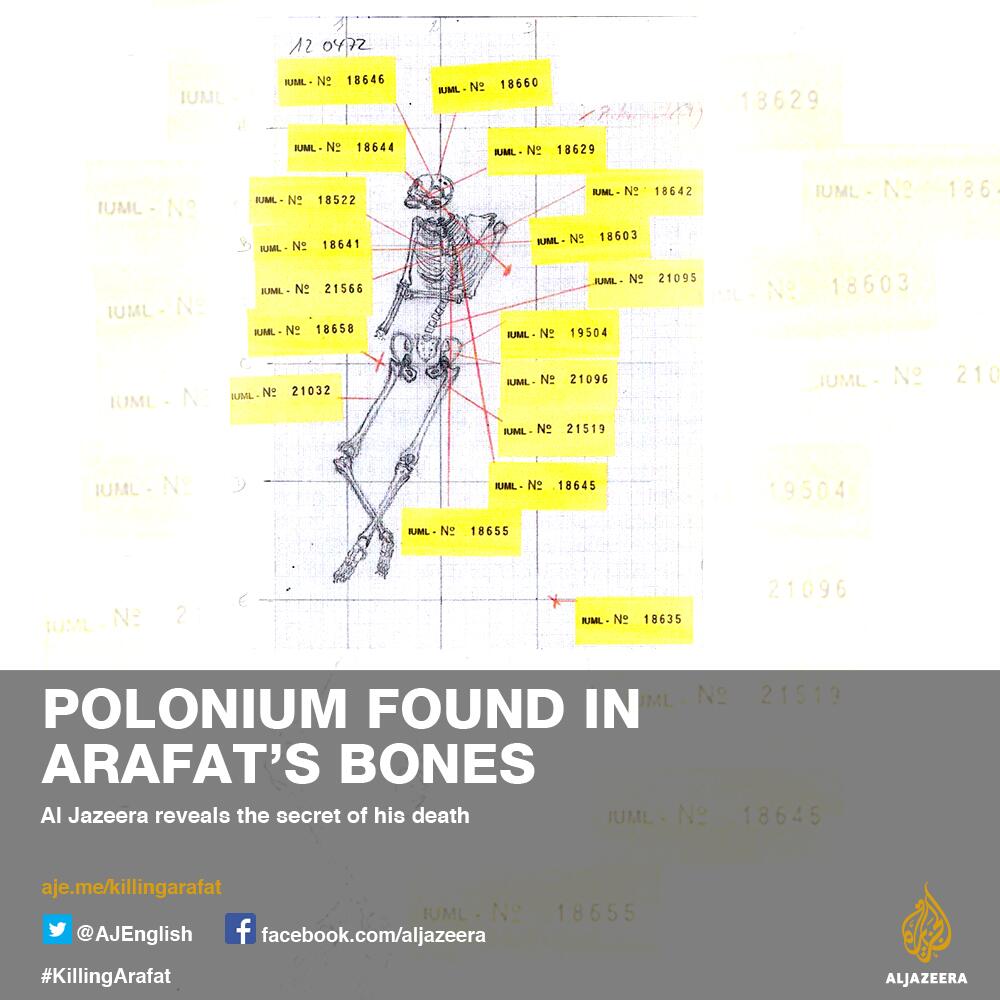 The Polonium found in Arafat's rib + hip bones was many times higher than normal [18 to 36 times, "depending on the literature"], Al-Jazeera reported.  The Polonium levels in the soil in which Arafat's remains were buried were also 18 times higher than normal…
The Swiss report says "tests on specimens taken from bone fragments + tissue scraped from Arafat's decayed corpse + shroud  "moderately support the proposition that [Arafat's] death was the consequence of poisoning with polonium-210".   Al-Jazeera's Clayton Swisher said that "on a scale of confidence of 1 to 6 [with 6 being strongly confident], scientists say the data supports poisoning at level 5″…
The test results come almost exactly nine years after Arafat's death on 11 November 2004. His final illness began suddenly late on the night of 12-to-13 October. Arafat had been trapped by Israeli forces for the previous two years in two rooms in the Muqata'a Presidential Headquarters [a former British-Mandate era Government Quarters which served as an Israeli prison during the First Palestinian Intifada], confined in unhealthy circumstances in close quarters and under stress, sleeping under a table with the shell-damaged building crumbling around him.
Poisoning was suspected early on, at least by Arafat's nephew Nasser al-Qidwa, who was Palestinian Ambassador to the UN in New York and subsequently Palestinian Foreign Minister. But polonium was not considered, in 2004. It was not until 2006 [and it was also in November] that defected Russian agent Alexander Litvinenko, living in London, was quickly diagnosed [with British Government help] with Polonium poisoning, during a reported-and-publicized three-week agony in a hospital before he died.
Clayton Swisher from Al-Jazeera's Investigations Unit produced the "What Killed Arafat?" report in early July 2012 here that revealed the Swiss lab's initial surprise finding of Polonium after testing Arafat's clothing and led to the decision to exhume Arafat's remains for forensic testing. Swisher just broke the "Killing Arafat" story this week [Wednesday evening] on Al-Jazeera, here.
There's also a Youtube, which Swisher called a "news package" [a full documentary will apparently air on Sunday]:
Clayton Swisher @claytonswisher 6 Nov – Watch news package for @aljazeera on #killingArafat Swiss report here
In Swisher's Youtube "news package", Arafat's daughter Zahwa says she's relieved, but wants "to know who killed him and the motive + ambitions behind it"…
The full 108-page Swiss report, in English, is also posted here on Al-Jazeera's website, and:
Clayton Swisher @claytonswisher — Read and decide: Swiss forensic report on Arafat's death http://aje.me/19CYjxY via @AJEnglish #killingarafat
No autopsy was performed at the time of Arafat's death in Percy Military Hospital outside Paris, France in early November 2004. Just before his death, Suha had called Al-Jazeera Arabic's Ramallah correspondent Walid al-Omary, and she was given on-air access to make emotional accusations that Palestinian leaders on their way to Arafat's bedside wanted to kill him "and he's still alive".
Suha told Clayton Swisher in 2012 that at the time she was so upset she didn't even think of an autopsy, it didn't even occur to her.
(She later said that the decision was not in her hands, as the body was given, in Paris, to the "Palestinian Authority"… https://un-truth.com/egypt/yasser-arafats-mortal-remains-exhumed-samples-taken-for-forensic-testing-about-possible-poisoning-laid-back-to-rest-again )
The Swiss forensic team from the University Hospital Center in Lausanne reportedly handed over its report in Geneva to Suha Arafat's lawyers and Palestinian .officials on Tuesday.
Tawfik Tirawi, named by Palestinian President Mahmoud Abbas to head a Committee of Inquiry into Arafat's death, seems to have been in Geneva for this event, along with the Jordanian forensics expert Dr. Abdullah al-Bashir, a member of the Committee.  This was reported by the official Palestinian news agency WAFA, here. Dr. Al-Bashir was originally engaged earlier, in late 2010, by the Yasser Arafat Foundation headed by Arafat's nephew Nasser al-Qidwa, who has long suspected that Arafat was poisoned. Dr. Al-Bashir initially contacted French hospital authorities, in writing in 2011, without much success.
After the Al-Jazeera program in 2012 (revealing that the University Hospital Center in Lausanne had found high levels of Polonium 210 in drops of Arafat's bodily fluids left on the clothing he wore in Percy Hospital before his death), Tirawi asked for Swiss, French and Russian help to conduct the testing on Arafat's remains.
Swisher reported on Al-Jazeera today that the Russian test results were "not yet published" and the French results "were secret". Al-Jazeera American reported that "The French are not expected to release their results before the murder investigation concludes".
UPDATE: The DFLP's Qais Abdul Qarim [Abu Layla], a member of the PLO Executive Committee, said in an interview with Al-Jazeera on Thursday that reports of the Swiss and the Russian teams were under study by PLO leaders in Ramallah.
Reuters noted that "The head of the Russian forensics institute, Vladimir Uiba, was quoted by the Interfax news agency last month as saying no trace of polonium had been found on the body specimens examined in Moscow, but his Federal Medico-Biological Agency later denied he had made any official comment on its findings. The French pathologists have not reported their conclusions publicly or shared any findings with Suha Arafat's legal team. A spokeswoman for the French prosecutor's office said the investigating magistrates had received no expert reports so far. One of her lawyers said the Swiss institute's report would be translated from English into French and handed over to the three magistrates who are investigating the case".
As Al-Jazeera American noted, "polonium-210 is extremely rare and would be difficult to obtain without the help of a government or access to a nuclear reactor. It also requires considerable scientific know-how to handle in a safe manner.
Polonium-210 is manufactured by bombarding the isotope bismuth-209 with neutrons in a nuclear reactor. Only about 100 grams are produced each year, almost all in Russia".
There was no mention of the findings on the nightly Palestine TV news report
Marian Houk @Marianhouk — Not one word, not a single word, on Palestine TV news just now about the release of results of Swiss lab testing on Arafat's remains…
Chris Doyle Tweeted from London that the focus is now more sharply on the question of who did it, and who was responsible:
Chris Doyle @Doylech — Told @BBCWorldTonight that #Arafat report shifts to the debate from what killed Arafat towards who did it? Proving the who nigh impossible
Suha Arafat told Reuters that "the polonium must have been administered by someone 'in his [Arafat's] close circle' because experts had told her the poison would have been put in his coffee, tea or water". This report is posted here.
Reuters reported that Israeli Foreign Ministry spokesman Yigal Palmor commented: "This is more soap opera than science, it is the latest episode in the soap in which Suha opposes Arafat's successors".
The Guardian quoted Palmor as saying: "The Swiss findings are not conclusive … Even if they did find traces of polonium that could indicate poisoning, there's no evidence of how that poisoning occurred. Before the Palestinian Authority jumps to conclusions, there are many questions still to be answered… Israel is not involved in any way. There's no way the Palestinians can stick this on us. It's unreasonable and unsupported by facts. We will see yet another round of accusations, but there's no proof".  These comments are in a story posted here.
According to an earlier edit of  The Guardian story, "Palmor said that among the scientists who tested Arafat's remains, only the French team were independent. The Swiss were commissioned by Suha Arafat, and the Russians by the Palestinian Authority, he said".
A year ago, a French medical expert who teaches at the hospital where Arafat died said it was impossible that Arafat had been poisoned by Plutonium. The Times of Israel reported that Dr. Roland Masse, a member of the prestigious Académie de Médecine who currently teaches radiopathology at Percy Military Training Hospital in the Paris suburb of Clamart [where Arafat was hospitalized for the final two weeks of his life and where he died on 11 November 2008] told the Times of Israel last year that "the symptoms of polonium poisoning would have been impossible to miss…A lethal level of polonium simply cannot go unnoticed".   Masse explained that "When in contact with high levels of polonium, the body suffers from acute radiation which translates into a state of anemia and a severe decrease in white blood cells. And yet Arafat did not present any of those symptoms. What did decrease was his platelets, not his white blood cells".   This is published here
But Jeffrey Goldberg noted that Israeli officials had long said they wanted Arafat dead.
Jeffrey Goldberg @JeffreyGoldberg – Ariel Sharon told me that he wanted to kill Yasser Arafat, and that he, and other leaders, had tried: http://www.bloomberg.com/news/2013-11-06/who-might-have-poisoned-yasser-arafat-.html …
Jeffrey Goldberg @JeffreyGoldberg –
In this 2001 @NewYorker article, Ariel Sharon told me how Israel tried, but failed, to kill Yasser Arafat: http://www.newyorker.com/archive/2001/01/29/2001_01_29_052_TNY_LIBRY_000022603?printable=true&currentPage=all …
Arafat may have been a murderer, but it seems he was also murdered.
Ali Abunimah @AliAbunimah — In the end, it seems, Arafat shared the fate of so many Palestinians: to be murdered without accountability or impunity. Will that change?