Here is the photo just Tweeted by the U.S. State Department —
@StateDept — (Photo) #SecKerry stopped by a shawarma shop for lunch in #Ramallah today.  http://flic.kr/p/eoY9a4
This is Samer Restaurant on Nablus Street in Ramallah, not very far from the Muqata'a — and that is Samer himself, opposite Kerry.

This photo is posted on the US State Department's Ramallah May 23, 2013 Flickr set, here.
The food here is simple, but healthy [shawarma, bits of grilled meat pressed together with a lot of garlic, is very like Greek souvlaki… We now know from the Passport Blog investigation here that it was turkey (chicken) shawarma that Kerry had.]
Full disclosure: I bought a grilled chicken last night from Samer!
But, Kerry's adventure in a small block of Ramallah not far from the center was breath-taking, when you see the security measures that the Palestinian President takes in town [much less the U.S. Consulate's normal precautions]…
And, as one Palestinian official in Ramallah told me a few hours later, it was "very smart!"
He treated a few Palestinian small businessmen as if they were…well, normal people, people that anyone could have a  pleasant interaction with on a sunny spring afternoon, not people who are scary or who should be locked up behind checkpoints.
It's amazing that the security detail allowed this highly unusual mingling with the people — while a small anti-Kerry demonstration took place a few streets away…
There was a comment on this exact point on Twitter:
Palestine Video ?@PalestineVideo – PA news tried to cover protests against Kerry's visit with news of a Shawerma stunt http://youtu.be/USt9xKAAImE  #Palestine #Video #Palestinian
The State Department photo appears in their Ramallah May 23, 2013 set on Flickr here.
It seems there were a lot of photographers snapping  pictures of this photo-op — here's another view via @MarquardtA on Twitter: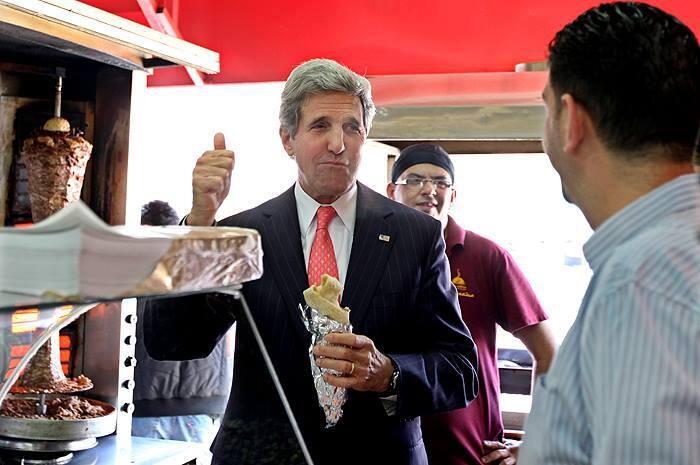 In his meeting with Israeli Prime Minister Benyamin Netanyahu in Jerusalem earlier today, Kerry said:
"Let me just say to everybody I know this region well enough to know that there is skepticism. In some corridors, there's cynicism. And there are reasons for it. There have been bitter years of disappointment. It is our hope that by being methodical, careful, patient – but detailed and tenacious – that we can lay out a path ahead that could conceivably surprise people, but certainly exhaust the possibilities of peace. That's what we're working towards…"

Well, this is a surprise.
UPDATE: A Ramallah taxi driver told me he noticed the whole street was closed with lots of security + presidential guards, so he quickly turned to an alternative route. The whole visit lasted mayhbe 15-20 minutes, he said.
Kerry also visited the bicycle-and-other-things shop across the street from Samer Restaurant – photo from the US Consul General in Jerusalem, here:
UPDATE: Ma'an News Agency later reported here that "Kerry's tour [n.b. – he also visited Samer Sweet Shop across the street] followed a meeting with President Mahmoud Abbas in the latter's office in Ramallah.  Several officials attended the talks including PLO secretary Yasser Abed Rabbo, Executive Committee member Saeb Erekat, Abbas' spokesman Nabil Abu Rdeina and a presidential adviereser on economic affairs. Abbas told Kerry the Palestinians were serious about resuming peace negotiations to save the two-state solution. The president also addressed ongoing settlement expansion and settler assaults against the Palestinian people in the West Bank".