Weeks after his resignation, Palestinian Prime Minister Salam Fayyad is still in office.
A report in the Gulf News quotes the Deputy speaker of the [inactive + beyond mandate] Palestine Legislative Council, Hassan Khraishah, who comments that it looks as though Fayyad will be staying in office until Palestinian reconcilation is achieved — in other words, for a while. This report is posted here.
Khraishah notes that "It is strange that Fatah and Hamas who had signed two reconciliation deals in Cairo and Doha have so far failed to name a premier and ministers for a new national unity government".
He is also quoted as saying "Both rivals, Fatah + Hamas are not serious about reconciliation…[+] hope to achieve it has been dramatically vanishing".
Meanwhile, Daoud Kuttab, a Palestinian journalist living mostly in Jordan and who is "currently the director general of Community Media Network, a not-for-profit organization dedicated to advancing independent media in the Arab region", has published not just one but two articles on 1 May about Fayyad's resignation [on 13 April].
In Al-Monitor, here, Kuttab reports that he was given "an exclusive and wide-ranging interview" with Fayyad, in his office. According to Kuttab, "The outgoing prime minister shows no sign of winding down politically. He talks with vivid detail about his exchanges with US Secretary of State John Kerry and his one-on-one conversation with President Barack Obama. With both, Fayyad says he stressed the practical, leaving the political discussion to the
Palestinian president".
Daoud Kuttab posted this photo, via Twitter here: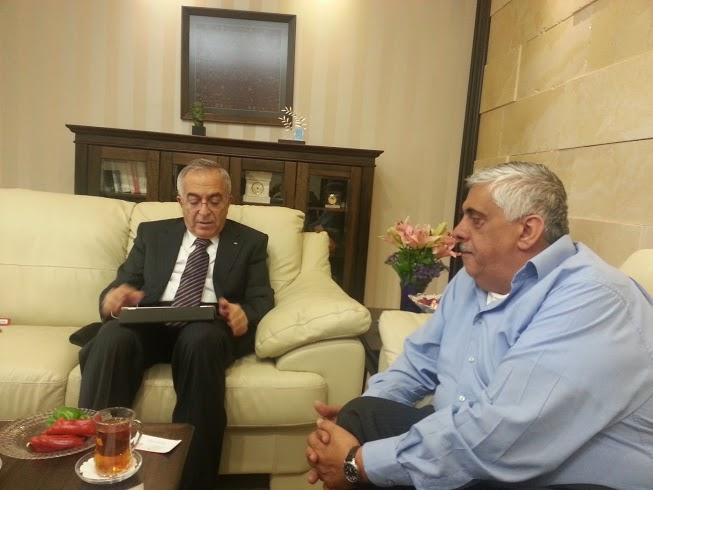 Is it Fayyad's or Kuttab's view that Palestinian President Mahmoud Abbas is having a hard time finding a replacement? It's unclear. In any case, according to Kuttab, "Fayyad notes that any prime minister must pass what he calls the "Dheisheh test:" For Fayyad, any new Palestinian official must be able to gain the confidence of the clever Palestinian activists like those living in the Bethlehem area refugee camp".
Kuttab reports: "When Al-Monitor met him Monday, he [Fayyad] was livid about an erroneous report in a local Palestinian outlet that he plans to return to the International Monetary Fund. He felt that certain political forces are trying to defame him with this leak. 'It is as if I am an outsider and that when my term ends, I will return to the outside', he said angrily".
So Fayyad himself is saying that his term has not yet ended…
But, Kuttab writes, whenever Fayyad's term finally will be over, "Fayyad plans to spend time reflecting".
In his second article about Fayyad published yesterday [this one, in the Jordan Times], Kuttab seems to push Fayyad into affably agreeing to represent Jerusalem's Palestinians, if they want.
Kuttab writes [rather elliptically] in the Jordan Times that "Palestinian residents of Jerusalem have been frustrated for years as they are caught between Israel's unilateral decision to annex East Jerusalem and the inability of the Ramallah-based Palestinian leadership to help them. Positive homegrown leadership in Jerusalem has not found a way forward due in part to the absence of any mechanism for electoral politics. Ever since the passing away of Faisal Husseini, no leader or leadership structure has emerged for the city Palestinians say will become their eventual capital".
This is how Kuttab describes the situation inside Palestinian Jerusalem:
"Decades old entities have not done much better as the absence of leadership has resulted in the creation of fiefdoms run by autocratic individuals who often seek Arab and international funding and rule their organisations on the basis of their ability to raise funds and pay salaries. Institutional corruption has skyrocketed because of the contradiction that exists in Jerusalem. On the one hand, Israel, which effectively rules the areas of East Jerusalem, is ambivalent about the state of Palestinians in the city; the Palestinian leadership in Ramallah and Gaza might be more caring, but is unable to implement any policy because of the Israeli repression against any activities stemming from the Palestinian leadership. The same contradiction also exists in terms of simple rule of law issues. If a Jerusalemite is wronged by another Jerusalemite or by a Palestinian institution he or she has little recourse. The prevailing atmosphere makes it politically incorrect to sue a fellow Palestinian or a Jerusalem institute at Israeli courts. Thus they are left with trying to plead their case with the Ramallah leadership. In Ramallah, there is a sense of apathy and exhaustion because of the many unresolved cases that come to them. Even if the Palestinian leadership rules in favour of a particular person, they are unable to execute that decision as they have been barred from having physical presence in the city".
Despite the fact that Fayyad made no perceptible impact on this scene while in office, Kuttab is nominating him as a possible solution to Jerusalem's lack of leadership:
"With Palestinians refusing to participate in the municipal elections for the so-called unified city, few opportunities exist to unite and focus the populace. The recent resignation of Salam Fayyad as prime minister has revived hope among some Jerusalemites that the highly respected Palestinian manager — who lives in the city and whose wife is a Jerusalemite — can help the people of Jerusalem design a governance system that can address the inhabitants' many grievances and draw up plans for the growth and prosperity of the city as a central part of the Palestinian national strategy. When confronted with the idea, Fayyad expressed willingness to help out as long as there is a legitimate request from Jerusalem residents for him to do so".
Meanwhile, a piece on Fayyad's resignation by Nathan Thrall published by Foreign Affairs, here, gives the perspective taken by most outsiders:
"Western governments viewed Fayyad as indispensible, the only uncorrupted figure both aligned with Western interests and sufficiently independent of Fatah to check its unelected rule in the West Bank … He spoke a common tongue with international donors, having formerly served as the International Monetary Fund's representative to the PA, and was valued in Washington primarily because of his reputation for transparency, his efforts at reforming the PA security forces, and his close cooperation with Israel. The vocal support Fayyad received from Israel and the United States was enough to discredit him among Palestinians — a dilemma familiar to Abbas as well … Fayyad [like Abbas] displayed a similarly keen sense for what U.S. officials might like to hear, proclaiming his 'open-ended commitment' to fire any individuals Washington disliked from boards of Islamic charities; his hostility to Hamas, which he described as 'our problem much more than it's Israel's or the U.S.'s'; and his 'better relationship with the Central Bank of Israel than with the [Palestine Monetary Authority]'. Both Fayyad and Abbas learned that Western officials valued them not in spite of their poor relations with the two largest Palestinian political parties but because of them".
So how have these two men, and their colleagues, responded their predicament? Thrall writes that:
"Faced with two unappealing options, Palestinian leaders have tried to stand on a less perilous middle ground, threatening to inch slowly toward confrontation through steps that are not large enough to risk substantial costs but are too small to win much domestic favor. They have offered mild support for popular protests, taken half-steps toward reconciling with Hamas, made feints at joining international agencies where they might later challenge Israel, and refused to negotiate with Israel without a settlement freeze and commitment to the 1967 borders, even while still holding 'exploratory meetings' and secret talks. Yet fence-straddling of this sort has its own costs. The PA has essentially chosen not to choose, and, in so doing, continued its slow enervation, leaving Palestinians increasingly dissatisfied and allowing greater room for other events and actors to shape the conflict. Indeed, much of the protest activity in recent months — from hunger strikes by Palestinian prisoners to demonstrations against the Palestinian government and Israeli settlers — has been an attempt to fill this leadership void and jump-start a stalled national movement"…