A lovely picture of the "Bab Al-Shams" tent village set up today by Palestinian activists in the E-1 area of the West Bank – Photo taken + Tweeted by Palestinian photographer Ahmad Daghlas and posted here: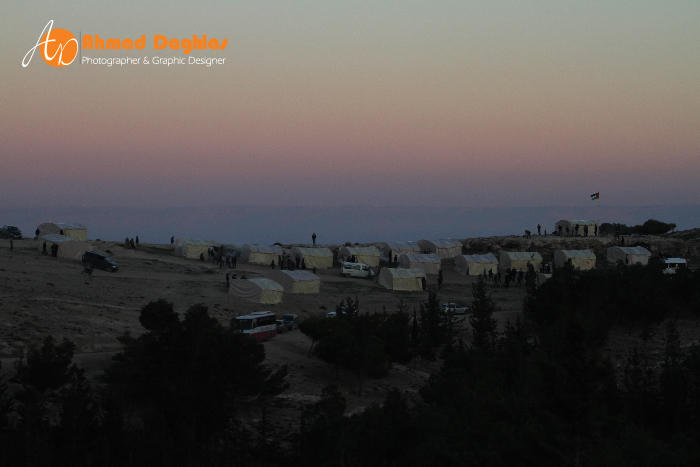 An earlier photo of the raised Palestinian flag is posted here: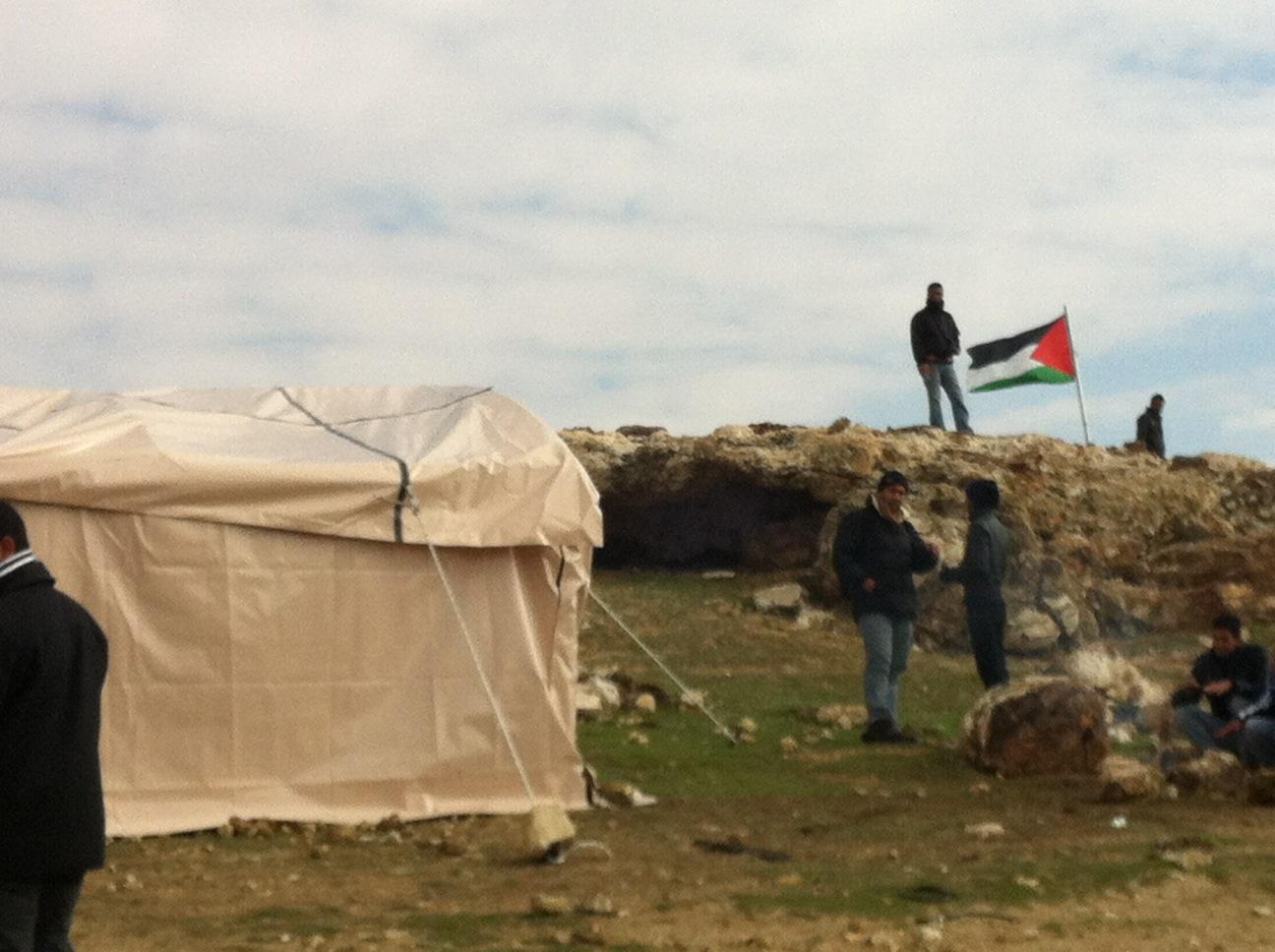 PLO Executive Committee member Dr. Hanan Ashrawi issued a statement of support, saying: "We have the right to live anywhere in our State".
Ashrawi added that "This initiative is a highly creative and legitimate non-violent tool to protect our land from Israeli colonial plans … and we call upon the international community, to support such initiatives, as well as to protect those who are being threatened by Israeli occupation forces for exercising their right to peaceful resistance against the illegal Israeli occupation".
Another good photo of the Palestinian flag being raised at Bab Al-Shams was published by +972 Magazine to illustrate a piece on Bab Al-Shams by Haggai Matar that's posted here:
UPDATE: Tweets on Saturday morning spoke of a night of bitter cold, and a possible imminent eviction threatened on a technicality:
Lema @Lemapal — Israeli military just announced to us that the court decision allows tents for 6 days not people. They make evict us soon #BabAlShams
This, its organizers have suggested, is — at least in the way it is being established and organized — the first Palestinian "settlement".
But, they Tweeted, they don't like this terminology:
BabAlshams @Bab_Alshams — For anyone referring to #BabAlShams as an outpost or settlement, we own the land this village is created on Palestinian land not land theft!
The New York Times reported here that "Adopting a tactic more commonly employed by Jewish settlers who establish wildcat outposts in the West Bank, scores of Palestinian activists and international supporters erected tents on Friday in a hotly contested piece of Israeli-occupied West Bank territory known as E1, and said they intended to stay put".
Reuters reported that " 'We are setting up a Palestinian village here where people will stay permanently in order to protect this Palestinian land', said Mohammad Khatib, one of the organisers of the tent village…'This is not a symbolic act, but comes in response to Israeli settlement building and we are sending a message to the international community that urgent action must be taken against Israel's settlement construction', Khatib said". This is posted here
The NYTimes blog, The Lede, also covered the story, reporting that "About 200 Palestinian activists set up camp, and a Twitter feed, on Friday in a part of the Israeli-occupied West Bank just east of Jerusalem known as E1ref=""… This is posted here.
By nighttime on Friday, it was announced that each tent was being connected to electricity, and a satellite TV was installed.
On Twitter, Internews journalist/editor/HuffPostblogger/producer Jamal Dajani took issue with the NYTimes use of the word *contested*:
Jamal Dajani @JamalDajani — Contested? "@nytimes: Palestinians Set Up Camp in Israeli-Occupied West Bank Territory http://nyti.ms/13nVBHR "
Israeli Police quickly arrived and informed the Palestinians they were "trespassing" and served several sets of eviction papers.  But, Abir Kopty Tweeted:
MT @AbirKopty We were ready for the eviction order so, while building #BabAlShams, we went to court & got suspending order!
Apparently, the land on which the tent village has been pitched is owned by a Palestinian family from East Jerusalem who have given their approval to this initiative…
Continue reading Palestinians move into E-1 – and erect Bab al-Shams tent village