After nearly a year of waiting, following the November 2012 exhumation (for testing) of the remains of the late Palestinian leader Yasser Arafat from his mausoleum in the Ramallah Muqata'a, Al-Jazeera reported today that a Swiss forensics laboratory in Lausanne found very very high levels of Polonium 210 in Arafat's bones, in his burial shroud, and in the soil in which his body was buried.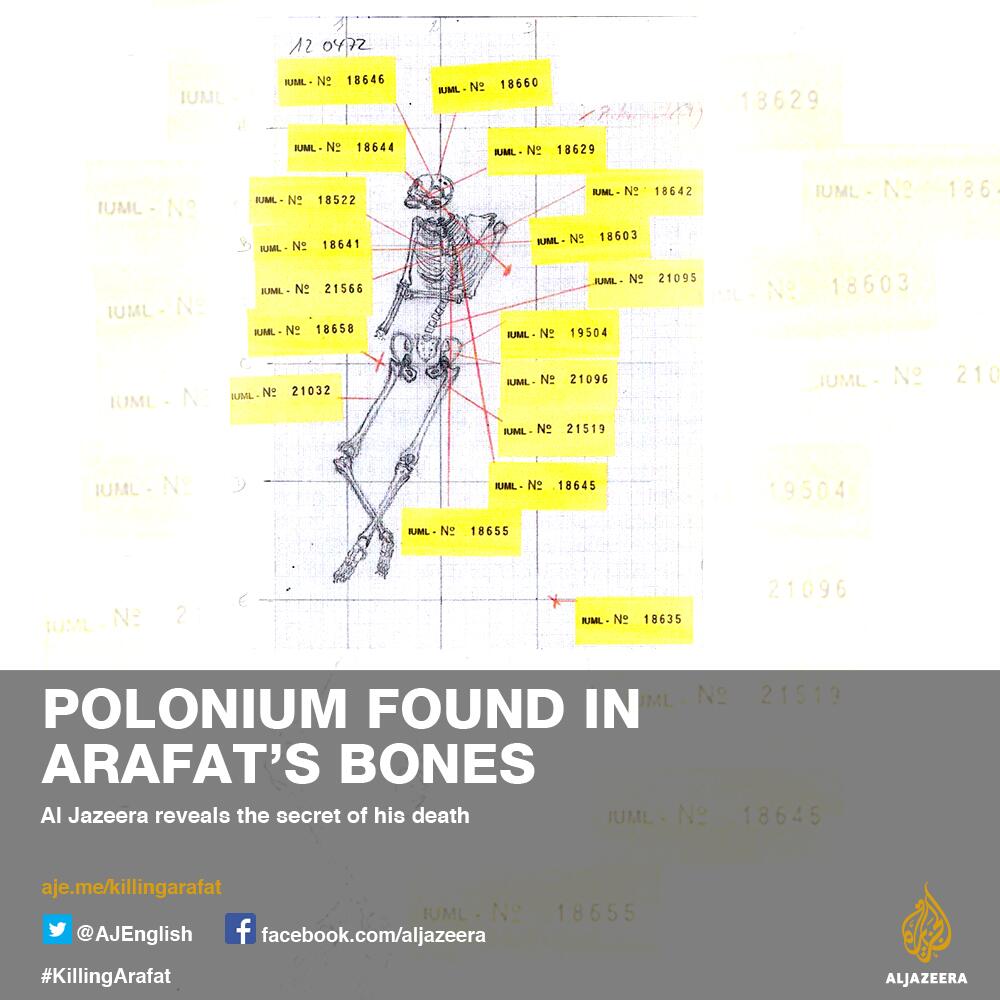 The Polonium found in Arafat's rib + hip bones was many times higher than normal [18 to 36 times, "depending on the literature"], Al-Jazeera reported.  The Polonium levels in the soil in which Arafat's remains were buried were also 18 times higher than normal…
The Swiss report says "tests on specimens taken from bone fragments + tissue scraped from Arafat's decayed corpse + shroud  "moderately support the proposition that [Arafat's] death was the consequence of poisoning with polonium-210".   Al-Jazeera's Clayton Swisher said that "on a scale of confidence of 1 to 6 [with 6 being strongly confident], scientists say the data supports poisoning at level 5″…
The test results come almost exactly nine years after Arafat's death on 11 November 2004. His final illness began suddenly late on the night of 12-to-13 October. Arafat had been trapped by Israeli forces for the previous two years in two rooms in the Muqata'a Presidential Headquarters [a former British-Mandate era Government Quarters which served as an Israeli prison during the First Palestinian Intifada], confined in unhealthy circumstances in close quarters and under stress, sleeping under a table with the shell-damaged building crumbling around him.
Poisoning was suspected early on, at least by Arafat's nephew Nasser al-Qidwa, who was Palestinian Ambassador to the UN in New York and subsequently Palestinian Foreign Minister. But polonium was not considered, in 2004. It was not until 2006 [and it was also in November] that defected Russian agent Alexander Litvinenko, living in London, was quickly diagnosed [with British Government help] with Polonium poisoning, during a reported-and-publicized three-week agony in a hospital before he died.
Clayton Swisher from Al-Jazeera's Investigations Unit produced the "What Killed Arafat?" report in early July 2012 here that revealed the Swiss lab's initial surprise finding of Polonium after testing Arafat's clothing and led to the decision to exhume Arafat's remains for forensic testing. Swisher just broke the "Killing Arafat" story this week [Wednesday evening] on Al-Jazeera, here.
There's also a Youtube, which Swisher called a "news package" [a full documentary will apparently air on Sunday]:
Clayton Swisher @claytonswisher 6 Nov – Watch news package for @aljazeera on #killingArafat Swiss report here
In Swisher's Youtube "news package", Arafat's daughter Zahwa says she's relieved, but wants "to know who killed him and the motive + ambitions behind it"…
The full 108-page Swiss report, in English, is also posted here on Al-Jazeera's website, and:
Clayton Swisher @claytonswisher — Read and decide: Swiss forensic report on Arafat's death http://aje.me/19CYjxY via @AJEnglish #killingarafat
No autopsy was performed at the time of Arafat's death in Percy Military Hospital outside Paris, France in early November 2004. Just before his death, Suha had called Al-Jazeera Arabic's Ramallah correspondent Walid al-Omary, and she was given on-air access to make emotional accusations that Palestinian leaders on their way to Arafat's bedside wanted to kill him "and he's still alive".
Suha told Clayton Swisher in 2012 that at the time she was so upset she didn't even think of an autopsy, it didn't even occur to her.
(She later said that the decision was not in her hands, as the body was given, in Paris, to the "Palestinian Authority"… https://un-truth.com/egypt/yasser-arafats-mortal-remains-exhumed-samples-taken-for-forensic-testing-about-possible-poisoning-laid-back-to-rest-again )
The Swiss forensic team from the University Hospital Center in Lausanne reportedly handed over its report in Geneva to Suha Arafat's lawyers and Palestinian .officials on Tuesday.
Tawfik Tirawi, named by Palestinian President Mahmoud Abbas to head a Committee of Inquiry into Arafat's death, seems to have been in Geneva for this event, along with the Jordanian forensics expert Dr. Abdullah al-Bashir, a member of the Committee.  This was reported by the official Palestinian news agency WAFA, here. Dr. Al-Bashir was originally engaged earlier, in late 2010, by the Yasser Arafat Foundation headed by Arafat's nephew Nasser al-Qidwa, who has long suspected that Arafat was poisoned. Dr. Al-Bashir initially contacted French hospital authorities, in writing in 2011, without much success.
Continue reading Swiss lab finds very high levels of Polonium in Arafat's bones and in burial shroud + soil