As we reported in our previous post, Abir Kopty had reported hearing police move in on the Bab Al-Shams tent village in E-1, on foot, just before midnight…
After that, it was a long night.
Nobody really knows what happened to the tents, because the site is still a closed military zone [at least until 00h30 on Monday] … but it was peculiar that the Israeli Army interpreted so… well, literally, the Supreme Court's injunction against evicting and/or destroying the 21 or so tents that were put up on Friday morning at Bab al-Shams.
But, the people were certainly removed.
Irene Nasser picked up the story at 2 am, Abir Kopty was also Tweeting, and Fadi Quran joined in at 4 am, sending out these Tweets :
2 am
Irene Nasser @Irene_Nasser — Bulldozers are moving closer towards us along with a large police force after the court gave permission to evict #BabAlShams. Freezing cold
3 am
Abir Kopty @AbirKopty — We are gathered, they are approaching us #BabAlShams
Aljazeera will go live now from here #BabAlShams
They have a strong flash to disturb the cameras of the press #BabAlShams
3 am
Irene Nasser @Irene_Nasser — Dozens of military buses are at the bottom of the hill. Soldiers are moving closer by foot
lights of police cars popping up across the hills around us. press has stuck out the cold and is still here to document #BabAlShams
Military jeeps are almost at the first tent #BabAlShams
They're here #BabAlShams
We're surrounded. #BabAlShams
There's no where to go, it's dark and can barely see anything. #BabAlShams
They're closing on the group violently #BabAlShams
First arrest. Not sure who hard to see #BabAlShams
They're attacking press and moving them out #BabAlShams
More arrested without any of us seeing who #BabAlShams
4 am
Irene Nasser @Irene_Nasser — We're ALL detained #BabAlShams
We're on a police bus being moved. Not sure where to #BabAlShams
4 am Fadi Quran @fadiquran —
Just arrested, in arrest bus #BabAlShams staying strong
Truth, crushed to earth, shall rise again #BabAlshams
5 am
Irene Nasser @Irene_Nasser — The bus is taking us through #Jerusalem. We seem to be heading either to atarot police station or qalandia checkpoint #BabAlShams
Some detained have either not been to #Jerusalem 10+ yrs or some even never seeing it now for 1st time on an arrest vehicle #BabAlShams
2 full buses of those arrested at #BabAlShams have been release at qalandia checkpoint. I'm on the 3rd bus with others #BabAlShams
5 am Fadi Quran @fadiquran
They just released all of us at Qalandia #BabAlShams
6 am
Irene Nasser @Irene_Nasser — 3 were taken to hospitals. 1 in ramallah and 2 in #Jerusalem who may be arrested. #BabAlShams
Going to the hospital in ramallah to find the 2 injured transferred from the israeli ambulance. #BabAlShams
All those injured (4) have been released. They suffered bad wounds to the face from police punching and violence #BabAlShams
Sun will soon rise on our village. Empty tents, blankets thrown everywhere. They may have evicted us but we'll always remain. #BabAlShams
6 am
Abir Kopty @AbirKopty — 6 injuries in total during the attack on #BabAlShams, we are here at the hospital with them
7 am
Irene Nasser @Irene_Nasser — Correction: 6 injuries in total. 2 minor
==============================================================
Here is a photo of Hafez Omar, taken after the Israeli Policy + Army evacuated Bab Al-Shams tent village in the E-1 area, east of Jerusalem: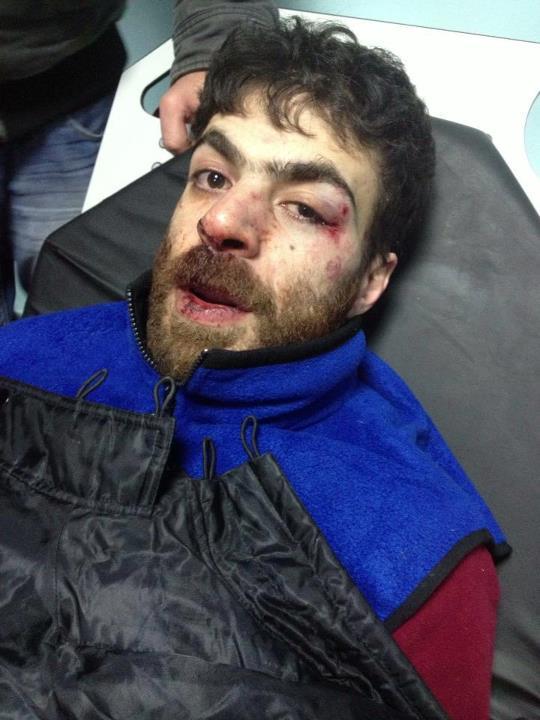 ==============================================================
Reactions + Comments:
Ori Nir @OriNir_APN — Isr' gov' proves it can quickly and efficiently remove a Palestinian WB illegal outpost. So, how about the ~ 100 illegal Jewish outposts?
Daniel Seidemann @DanielSeidemann — Message of today's E1 eviction: what is allowed to hilltop West Bank settlers, social protesters in Tel Aviv, is forbidden to Palestinians.
Daniel Seidemann @DanielSeidemann — The message of today's E1 eviction to WB Palestinians: you may not protest non-violently. That leaves submission or… ahem. Dumb. Just dumb.
Daniel Seidemann @DanielSeidemann — The State claimed that a non-violent E1/Bab Alshams protest in isolated area created "urgent security danger and threat to public safety"
Brent E. Sasley @besasley — @DanielSeidemann So Bibi *did* flagrantly ignore the Supreme Court. Very surprising, and a terrible precedent.
Daniel Seidemann @DanielSeidemann — @besasley The injunction forbids destruction/removal of the E1 protest tents for 6 days, unless there is an urgent security concern. 1/2