As the day dawned, there was red light on the Ramallah horizon, with the rest of the sky covered with a layer of grey clouds, as the late Palestinian leader Yasser Arafat's mortal remains were exhumed and brought up for forensic testing by teams of Swiss, French and Russian experts.
"Red in the morning, a sailor's warning"… a traditional warning of storms ahead.
UPDATE:  Despite the 3:00 pm report on BBC World News from the BBC correspondent in Ramallah Jon Donnison,  after the exhumation was finished, saying he personally believed it was quite unlikely that there will ever be any conclusive results from today's forensic testing, the BBC right afterwards ran an interview with Scottish forensic investigator David Barkley who said that "it's almost certain already", from the results of the testing done in a Swiss lab, that Yasser Arafat was poisoned with polonium.

Barkley appeared in the Al Jazeera Investigates program "What Killed Arafat?", aired at the beginning of July, which made necessary this exhumation and forensic testing of Arafat's remains. In that program, Barkley said that Swiss lab testing showed unexpectedly high levels of polonium [of the type that can only be a by-product of a nuclear reactor] in the spots of blood, urine and sweat tested on Arafat's clothing. When tested for comparison, he said, the areas of clothing around those spots showed only "background" levels of polonium [of the type found in nature].

Barkley told the BBC World TV news this afternoon that if the results of testing of samples taken in today's forensic procedures match the results earlier found in his clothing, that "probably does prove" that Arafat was poisoned and murdered.

Robert Fisk wrote in the Independent here, that "it is much to al-Jazeera's credit that they pushed to have his hat and urine stains from his pants examined in Switzerland. That's when the polonium-210 was discovered"…
Media workers outside Muqata'a in photo [Sipa] posted on Nouvel Observateur website here
Media crews were kept behind Palestinian police barricades put up a couple of weeks ago, outside Ramallah Muqata'a, during Arafat exhumation + forensic taking of samples for testing [which will take months].  The exhumation + sampling was done out of the public view.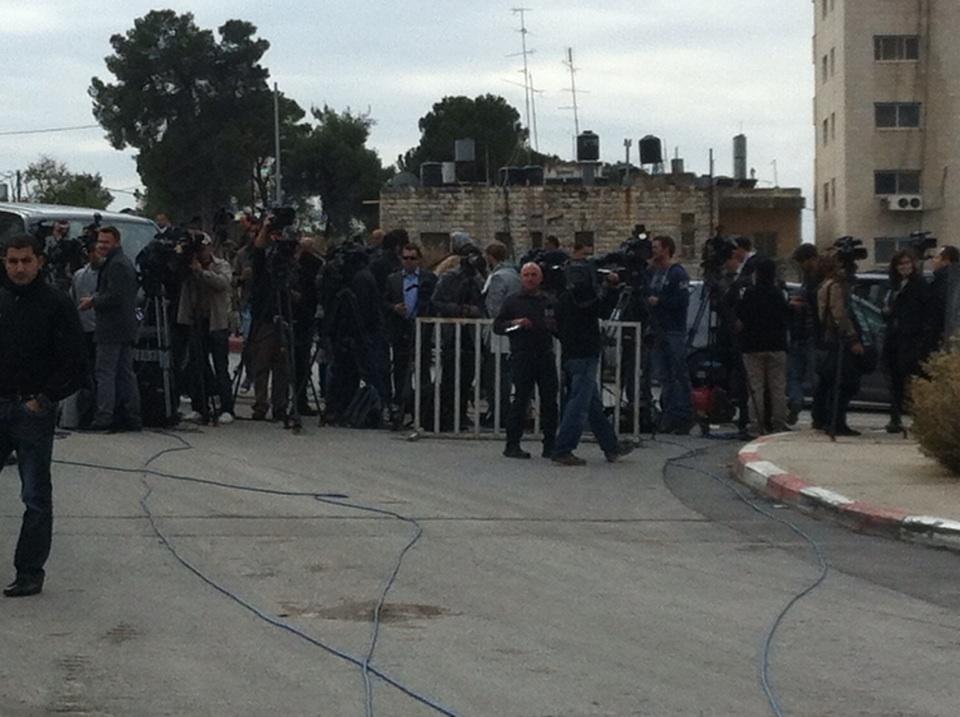 Photo of more media workers outside the Muqata'a today – Tweeted by @RZabaneh and posted here
.
In a press conference held at 2:00 pm in the Ramallah Muqata'a,  Dr. Abdullah Bashir, head of the Jordanian Medical Association [who has been working on the Arafat case for several years on behalf of the Yasser Arafat Foundation, run by Arafat's nephew Nasser al-Qidwa] said that the exhumation began at 5:00 am.
Tawfik Tirawi, head of the Palestinian inquiry that has already been underway for several years, told journalists at the press conference that the results of the tests can be expected after about four months.  "We want to arrive at the truth", Tirawi said.  The Palestinian Authority Minister of Health, Dr. Hani Abdeen, said in response to a journalist's question that "the state of the body was exactly as expected, in the case of somebody buried eight years already".
Al-Jazeera reported here that a group of Palestinian officials were witnessing the procedure, but no family, and also not Suha Arafat's lawyers. The Al-Jazeera report said that its journalists had been followed around Ramallah in recent days by Palestinian security forces.
Suha, however, told CNN's Christiane Amanpour that she had watched the exhumation from her residence in Malta. It seems, but it is not completely clear, that a private TV feed may have been arranged for family members.
Suha Arafat in Malta watching her husband's exhumation in Ramallah – 27 Nov 2012 – Reuters blog here.
There is not a religious problem with exhumations, but some consider it disrespectful. The Palestinian arrangements for today's exhumation + forensic testing — supervised by Tawfik Tirawi — emphasized respect for deceased, honor for national leader, Palestinian "sovereign" control of the procedure. Tirawi told journalists that only Palestinians would touch Arafat's mortal remains.
Tirawi was at Arafat's side during several years of Israeli siege of the Muqata'a, and who was once the head of Palestinian Preventive Security but now oversees the Palestinian Authority Police Academy [Al-Istiqlal University] in Jericho
Al-Jazeera reported that "On Monday night, workers with hand tools drilled through more than 4 metres of concrete over Arafat's body.  Investigators have collected several samples on the way down to look at polonium levels".
Continue reading Yasser Arafat's mortal remains exhumed in Ramallah + samples taken for forensic testing about possible poisoning + laid back to rest again